Employee Morale Gifts from All The Buzz Gifts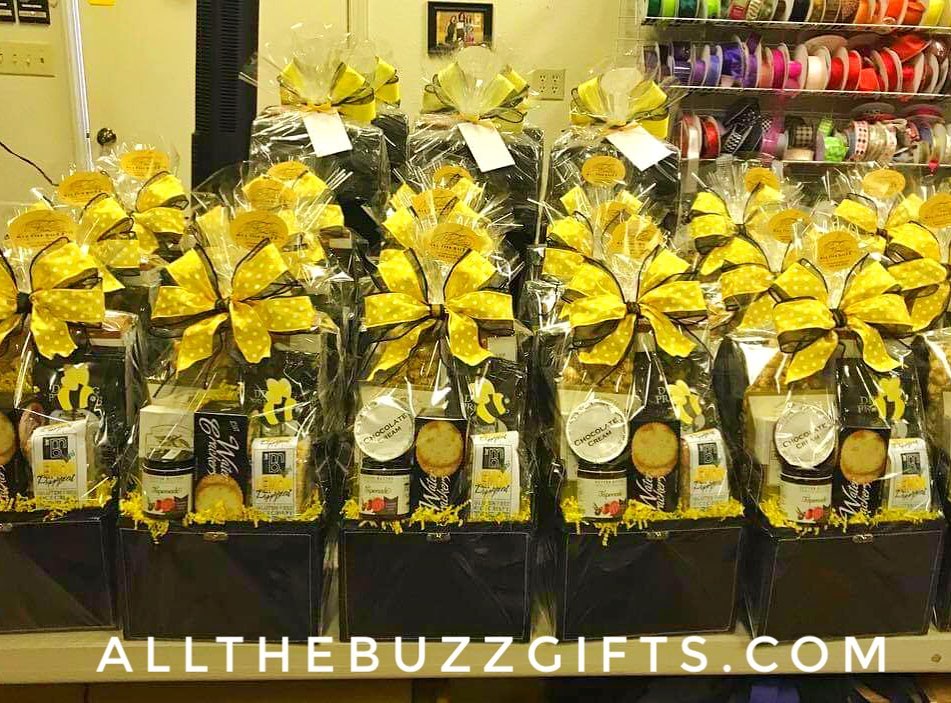 Do your employees deserve a morale boost?
These are difficult times, for sure. And, everyone is spending so much time alone and away from their colleagues and the office.
Have you seen our Home Worker's Survival Kit, yet? (And we have them in small, medium and large and 3 different price points.)
We have created lots of employee morale gifts over the last 16 years. The 88 baskets we made in this black leatherette with the big yellow bows were for an accounting firm. Aren't they super cheerful?
You will love these gifts on our blog from March 2020. Lots of smiley faces to go around. More employee morale gifts here.
We have also created lots of new hire gifts for some local tech companies. We love working with our corporate clients on retirement gifts, new hire gift, thank you gifts, and work from home survival kit thank you gifts! We have fun creating with our clients and love bringing their own employees lots of glee and joy.
We created this for one of our corporate clients who wanted to boost the morale of their employees who have been working from home the past 5 months.  All of the zoom meetings get to be so overwhelming and never getting to see your colleagues in person can be demoralizing. These are strange times and the world is a little bit upside down. So, one of our clients sent the Work from Home Survival Kit to boost their team's morale.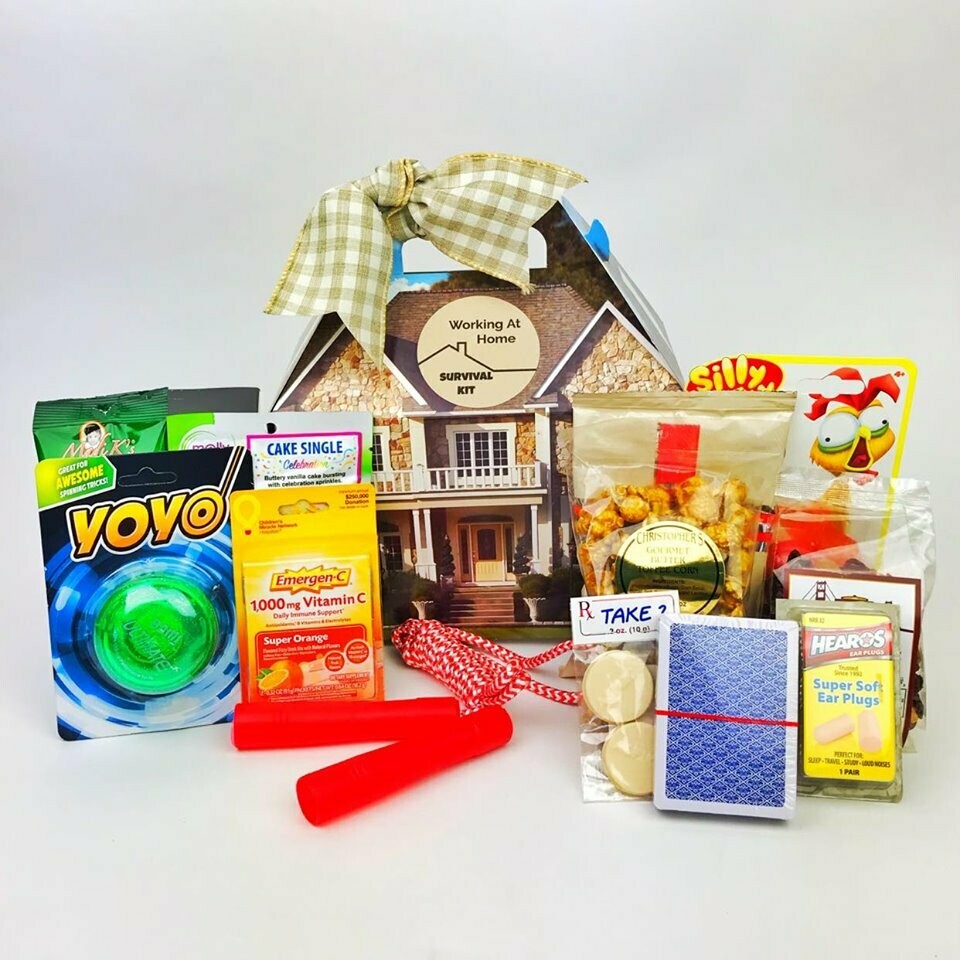 This kit has snacks, yo-yo, caramel corn, and vitamin c energize boost!  New times require new, thoughtful gifts. And, this one is fun, especially for those new to working at home. It includes coffee, snacks, immunity boosters, earplugs, fun activities like jump rope, yo-yo, silly putty, playing cards, and chocolate aspirins. Personalization is available.  (We can personalize with vinyl lettering, custom ribbon and it is just a small upcharge.)
At All The Buzz, we specialize in custom corporate gifts. If you have any ideas you would like to talk through, give me a call at 408-504-3703 or email me at Shawn@AllTheBuzzGifts.com and we can brainstorm and spitball and come up with something extra special for your department and company.
We have a super cool machine that allows us to put vinyl lettering on gifts and baskets. A really fun idea for company logos – especially on the metal baskets and ceramic frames.
In case you live locally here in San Jose, you are always welcome to come out to our workshop in San Jose (by appointment) and you can always save on shipping by coming and pick up your gifts at our workshop. (Just to text us ahead of time to make sure we are there.) We have been making gift baskets here in Silicon Valley for over 16 years, so we have a pretty robust "beehive" workshop on San Felipe Road.
Custom Baskets and Gifts : Check Out These Beauties We Personalized for a Client
custom gift baskets, employee morale for corporate clients, employee morale gifts, gift baskets in san jose, morale gifts, silicon valley gift baskets, thank you gifts, work from home survival gifts