Get Well Soon Gift Baskets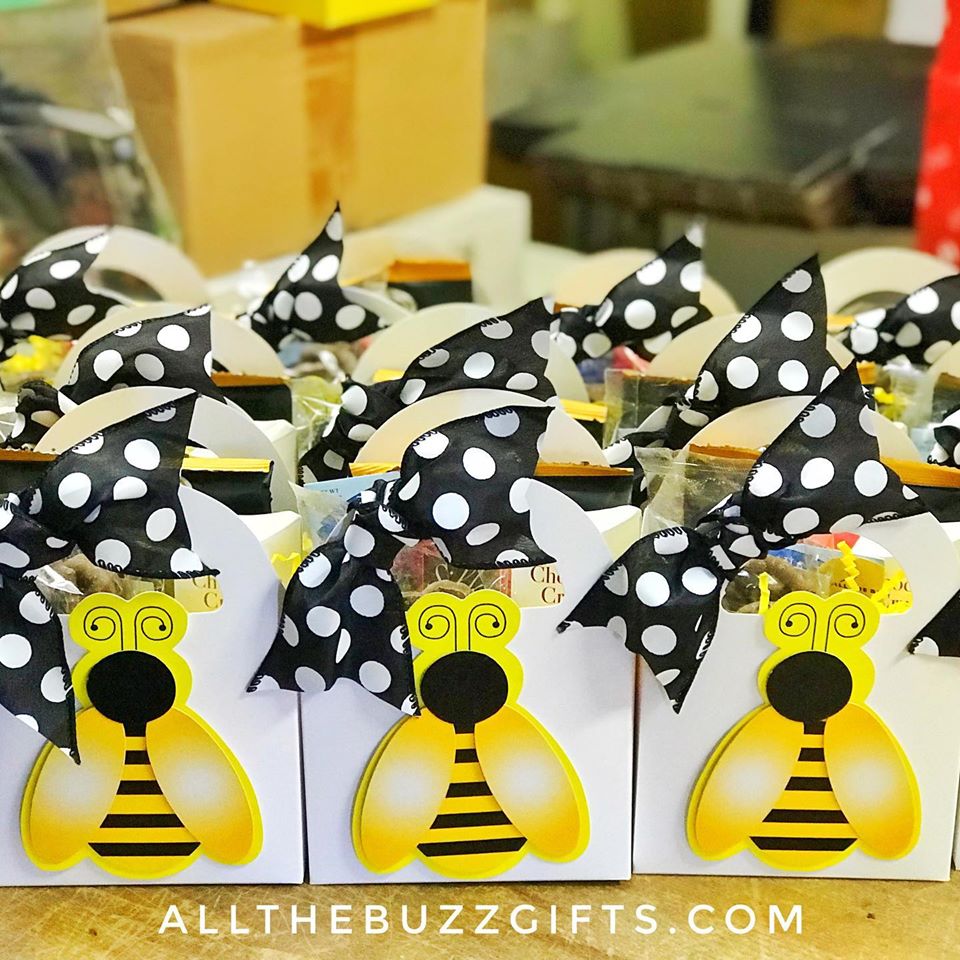 Back to school season during pandemic right before flu season kicks off is not a recipe for fun, that is for sure. But, we are here to help comfort anyone in your circle that needs it. We got you. But, maybe all of this mask-wearing will keep the flu at bay this season. We have noticed fewer colds and other viruses and stuff in our circles. Maybe this will be a thing from now on. I would love that! No more winter or summer colds, right?
But, that is not reality. We know a few of us will get colds or flu this coming fall and winter and we would love to help. (And, fortunately, most kids in our area are not actually going to school this semester. They are using ZOOM for their lessons.)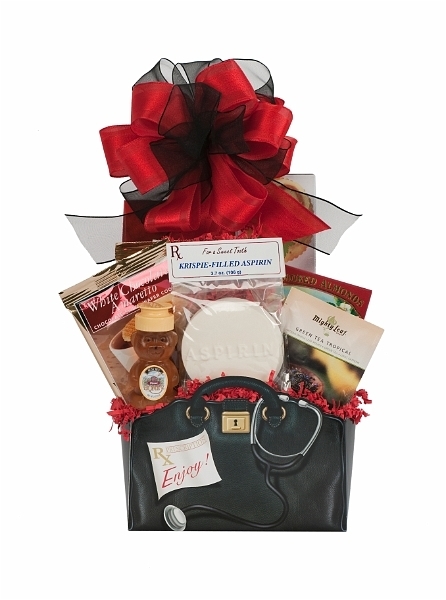 Our "Well Wishes" Get Well Soon Gift Basket
Gift boxes includes all kinds of things to cheer someone who's under the weather including soup mix, crackers, tea, honey, almonds, cookies, and a giant chocolate krispy aspirin. The honey is local honey for Mike & Niki's Honey which is collected from hives here in San Jose. 
This is one of our oldies. It is a classic and best seller in this category. We can almost always get this one shipped out pretty quickly, too. Same day can be tough, but if you get the order in my 11 a.m. Pacific, we can sometimes get it right now.
$40 plus shipping and you can include some text for a hand-written note by us with your sentiment inside.
Cold and Flu Season Get Well Gift Basket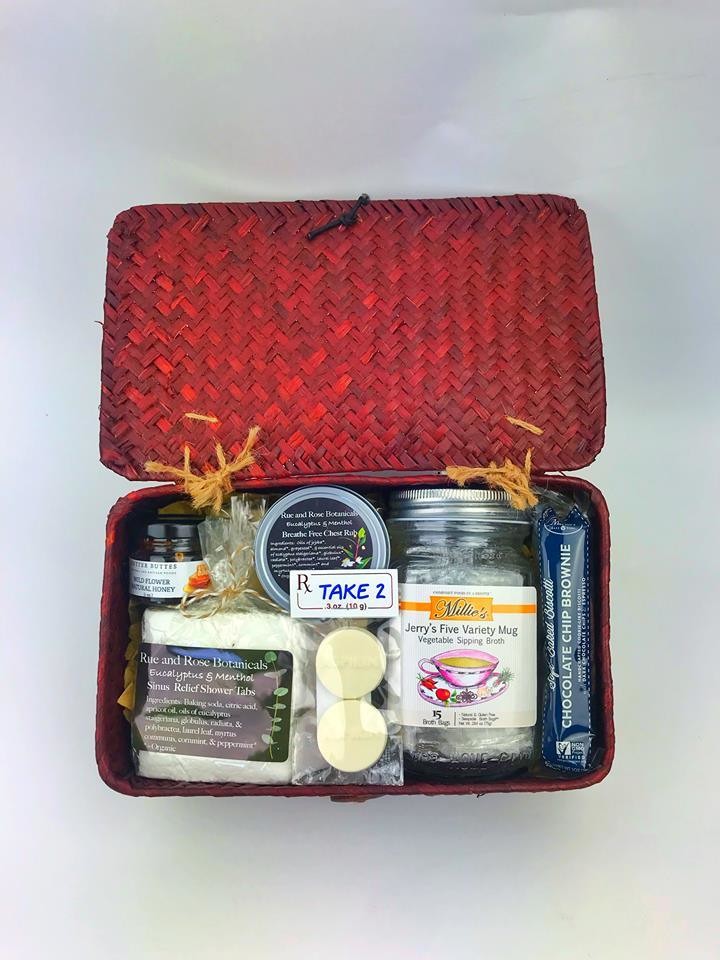 Cold and Flu Basket pretty much says it all.  $70 plus shipping
This thoughtful gift is for that special someone suffering from any nasal or respiratory ailment. Includes sipping broth in lidded mason mug, honey, tea, biscotti, and a candy aspirin.
And, for real relief, your sicky will love the locally made sinus relief shower tabs and Breathe Free chest rub. They are all-natural, small-batch relief at its best. 
If you would like to personalize it, we can include a custom ribbon with the "patients" name or a loving message on the ribbon. (Small $5 upcharge.) We also have other goodies you can add to this or any of our baskets.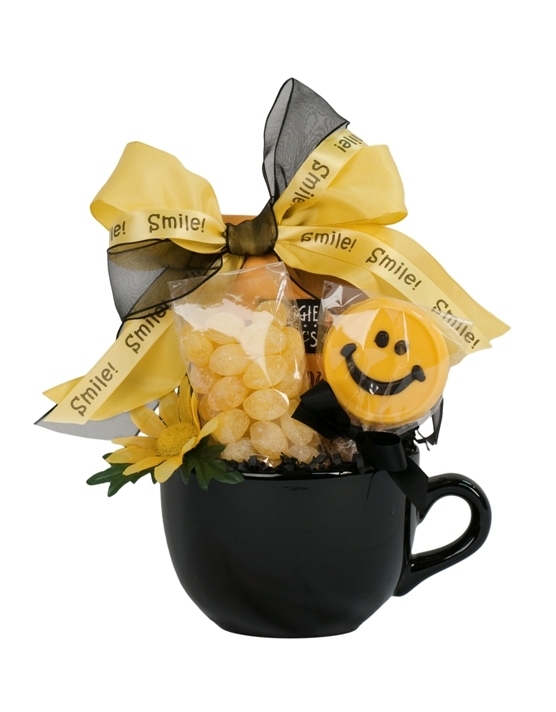 Large latte mug is filled with coffee (or specify tea or cocoa), cookies, nuts, candy, and smiley chocolate pop!
$25 plus shipping. This one makes a great gift for an entire department or team, too. Lots of ways to use this SMILEY gift. (Again, we can also put custom ribbon with logos or some sentiment you come up with.)
If you are local, you can always pick up your baskets at our workshop in San Jose on San Felipe Road, but you do need an appointment and request that you text us to confirm before you drive all the way out to pick up. You can always call or text me at 408-504-3703.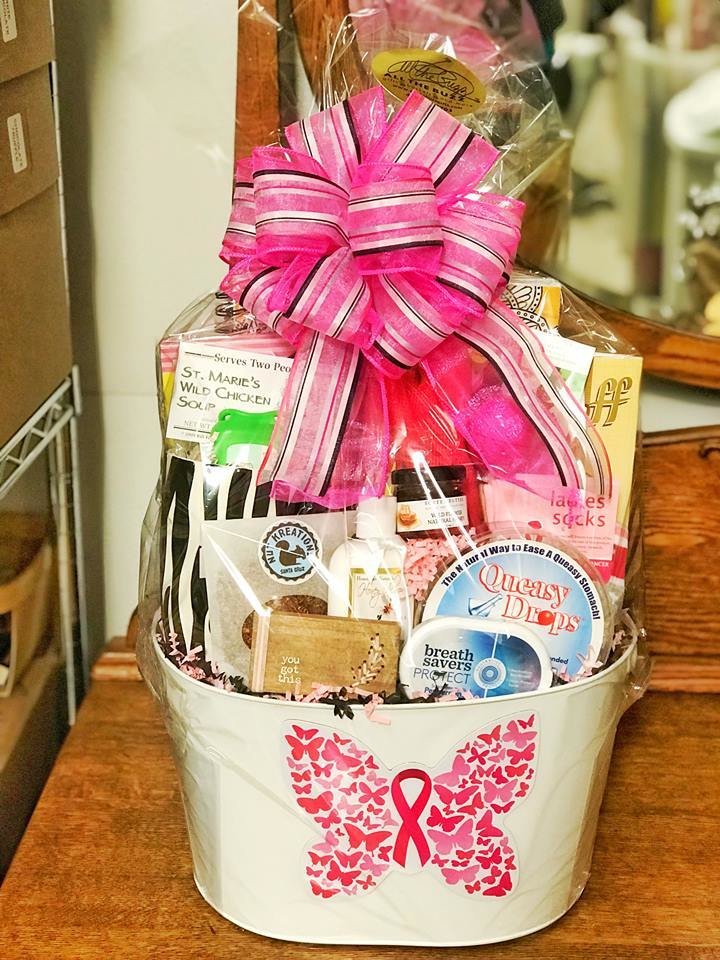 Cancer Patient Chemo Care Baskets
We even have an extra special gift basket for your friend or loved one who may be experiencing chemotherapy for their cancer.
We made it with them in mind with some goodies that may help them ease some of their nausea and other malaise from the stress and the chemical cocktail.
Know someone braving chemotherapy or cancer treatments? We hope not, but we want to try to help if we can bring them a touch of comfort. 
They will surely appreciate your thoughtful gift of comfort-including a fun mug, chicken soup, mints, tea & honey, lotion, queasy drops, warm beanie or socks, adult coloring book, and much more. Customizable too! Magnet on the tin will vary.  $150 with free shipping. 
Again, we can also personalize the basket with a bow with their name on the ribbon or a loving sentiment from you. (We have a custom ribbon printer, so most any message is possible.)
If you want something more customized for your friend or loved one, call me or email me and we can create something specific and personal. We do specialize in custom gift baskets here in Sa Jose – they are our bread and butter. We have been making custom corporate gifts and custom gifts for consumers since 2004. My email is Shawn@AllTheBuzzGifts.com or call me at 408-504-3703. I would love to brainstorm with you.
Be sure to follow us on Facebook and Instagram to get your creative juices flowing! You can also read all about what our past clients have to say about our gift baskets on YELP or Google, too.
I should also mention we do have a Pandemic Gift Basket – because it is just that kind of year!
Stay health. Mask up and we will all get through this together.
chemo gift basket, cold and flu gift basket, comfort gift basket, get well gift basket, pandemic gift basket, wellness gift basket