Boredom Buster Gift Basket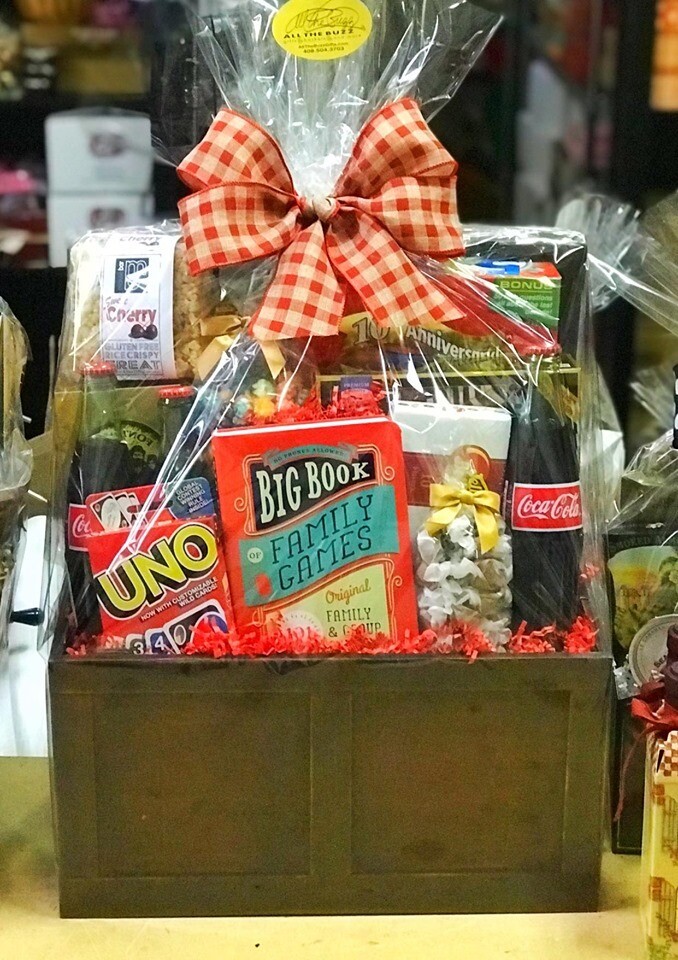 If your kids have been home all summer, you can probably relate to this gift basket we created. This quarantine is driving us all up a wall! I think we are all as bored as our kids are.
We are calling this the Boredom Buster Gift Basket and it is perfect for families or people who are quarantined and have played every game and put every puzzle together one too many times!
Sodas, munchies, Jelly Belly jelly beans, salt-water taffy, flavored popcorn, 5 Second Game, puzzle, Big Book of Family Games (travel-friendly book guarantees hours of hilarious, technology-free fun that requires nothing more than creative minds), rice krispy brick, toffee pretzels, and other goodies. Have you played the 5 Second Game? Here is more info about it:   "The 5 Second Rule Uncensored Board Game comes with 150 question cards, a Twisted Timer, and the game rules pamphlet. The rules of the game are simple, spit out the answers to the question you are asked in five seconds, no matter what they are!" These games are a great way to get your family to all stop staring at their phone. 
Definitely check out our Pandemic Survival Kit, too. They could both be perfect for a family road trip.
You can take this gift basket on your next family road trip, your next beach house, or Air BNB rental. It's loaded with fun stuff for you and everyone in your group. It will keep you all very busy.  And, it comes in a super cool trunk that you can use when you get back home and store your games in for more fun later.
Custom Gift Baskets in San Jose
We can also customize these for your family or for your company, too. We can add vinyl lettering to customize it with your family name or company logo. We can also add custom ribbon and add goodies to personalize this boredom buster for your family or your department.
If I can help you with a custom gift for your family or for your company, call me at 408-506-3703 or email me at Shawn@AllTheBuzzGifts.com and we can brainstorm some great ideas for you.
Be sure to also check us out on Facebook or Instagram to see all kinds of fun ideas we create.
You can save on shipping by picking, you can always schedule a pick-up at our workshop in San Jose. Just please be sure to schedule it ahead of time to make sure we were there, please. 408-506-3703 is a good number to text me at.
bay area gift baskets, boredom buster gift basket, corporate gifting, corporate gifts, customized gift baskets, family gift baskets, game night, gift baskets in san jose, gift baskets san jose, pandemic gift basket, personalized gift baskets, road trip gift basket, san jose gift baskets