Work From Home Survival Kits for your Employees and Friends
Spoil Your Employees or Friends That Work From Home
Working from home, or telecommuting was thrust upon all of us pretty suddenly this year thanks to the global pandemic. We are finding that we are hearing from lots of employers who want to send more gifts to their employees to keep them motivated and feeling loved.
The image below is our "Working From Home Survival Kit" that we made especially for our local Silicon Valley tech workers.  They started working from home 100% of the time before we were even put on quarantine.  Thank you, tech corporations! (Note: This gift is not location-specific. We make them in San Jose, but we ship all over the U.S.)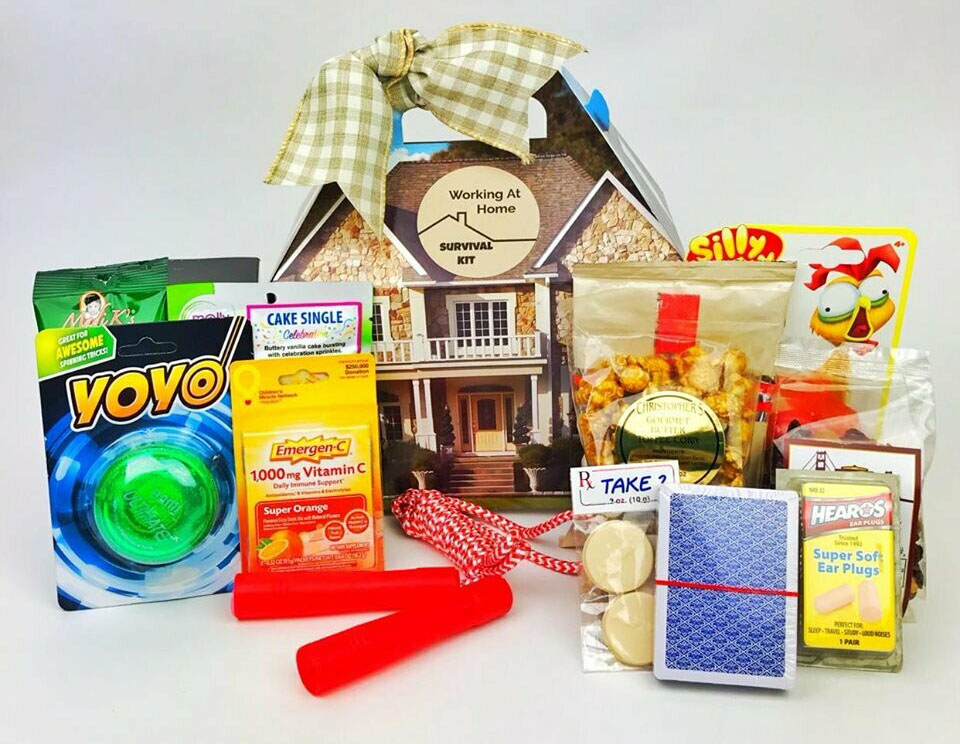 We have had a few requests from some managers to send their employees little morale boosts, pick me ups, and something like our Work from Home Survival Kit gift is perfect.  You can also contact us for a custom Work From Home Kit. We specialize in custom gifts.
Or we can help you customize a gift for a really generous morale boost.
Working from home can be great, but it can also be exhausting doing lots of Zoom calls and no in-person human interaction. Plus, if your employees are working from home and taking care of their kids or having to monitor their kids' homeschooling, they would probably love to know you are noticing what a great job they are doing holding it all together.
Our wine hamper with wine from Left Bend Winery is also great for employees or friends working from home if you want to send a well-deserved bottle or two of wine. Other gifts that are.   The wine basket is filled with two bottles of a local vineyard's best and lovely accompaniments. Also included are crackers, brie spread, almonds, caramels, chocolates, bruschetta, dried fruit, deluxe snack mix, wine margarita mix, and chocolate sea salted caramels. A beautiful gift of good taste! Custom options available, call for details. Available for local delivery only, adult signature required. This gift is sold through Left Bend Winery, in accordance with all applicable laws.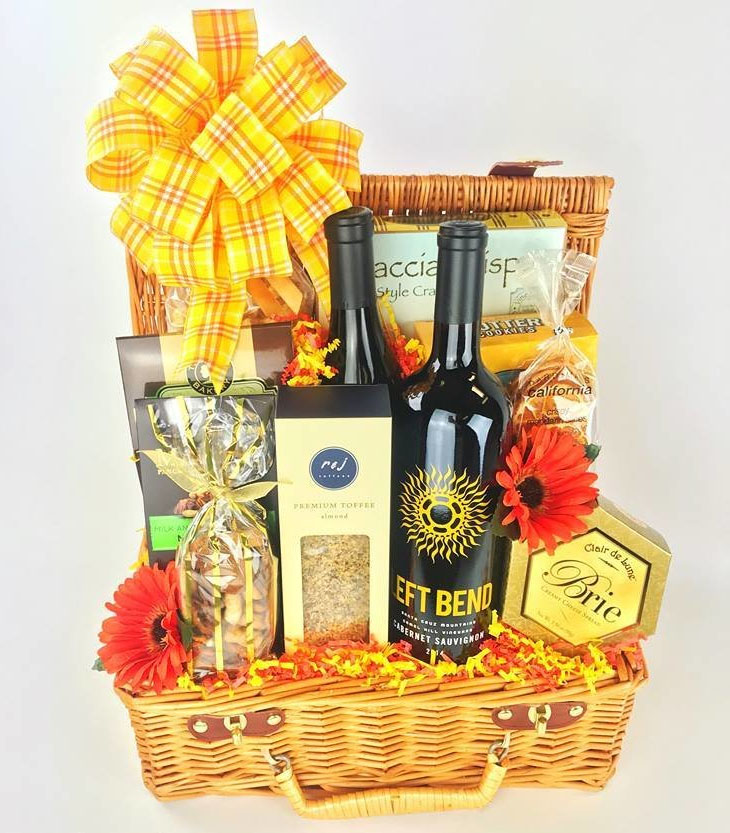 If you choose a custom option, we will contact you for more details, so that we can get it just right!
Or if you just want to send a little quick pick-me-up for your team or your book club, we also have these fun THANK YOU gift boxes that are filled with yummy goodies and are super affordable.
Every single one gets a beautiful ribbon bow, too.  We make a lot of these for our corporate clients and sometimes even personalize them with the company's colors or log ribbon. (Small fee for custom ribbon.)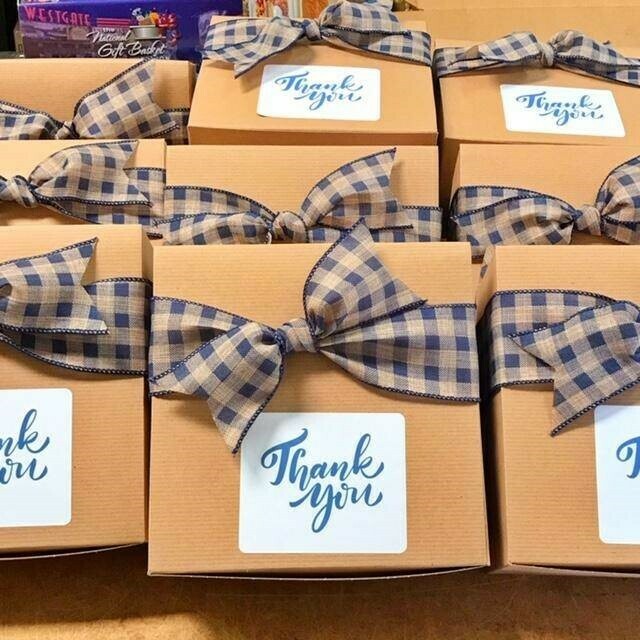 Our Corporate Clients Know How to Thank Their Remote Staff
We have made custom "work from home survival kit" gift baskets for entire departments of essential workers at hospitals, banks, book clubs, leasing companies, property managers, and more! It's a great way to say thank you for the hard work that they do.
Custom corporate gifts are our expertise! Call me at 408-504-3703 or email me at Shawn@AllTheBuzzGifts.com and let me know what your corporate gift requirements are and we would love to pull it together for you and your company.  I love a good theme and I love personalizing and customizing any of our gifts for your friends or colleagues. Be sure to check out our 58 YELP <> GOOGLE reviews so you can see what our customers have to say.
Check out our Employee Birthday Basket Program, too! 
And, check out our Employee Appreciation Gifts blog here.
We Can Guarantee Lots of Smiles When You Send Our Gift Baskets
We would love to work together. I look forward to helping you out, soon!
Put a smile on someone's face and send them a survival kit if they are working from home or a simple basket of love from All The Buzz. We can guarantee lots of smiles.
(And, if you need help with Corporate Birthday Gifts, call me!)  Tel: 408-504-3703 or email me at Shawn@AllTheBuzzGifts.com got a brainstorming session or a quote.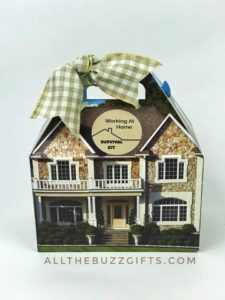 This is the "outer" of the Work From Home Survivial Kit and then we obviously fill it and then put it in an outer shipping box.
corporate gift baskets, custom corporate gift baskets, customized corporate gift baskets, essential employees, frontline workers, gift baskets for friends, personalized gift baskets, telecommuting gift basket, thank you gift basket, work from home gift, work from home kit, work from home kits