5 Fabulous Galentine's Day Gift Baskets for Your Bestie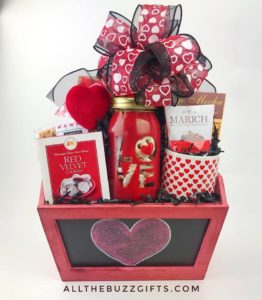 Do you and your BFF have a Galentine tradition? If not, it's time. I mean, your bestie always has your back, correct? She supports you through all your ups and downs. She listens to you when you fall in love and is there for you for the breakups. She is the first person to celebrate your successes and is your loudest cheerleader, too.  It is way past time to create a Galentine's tradition with your circle of best friends.  Some women also have a Galentine Valentine gift exchange, but not like the silly Christmas White Elephant Gift Exchanges. These are gifts your best friend would actually love!
These 5 examples would all make a seriously fun gift for your bestie, but be sure to check all of our gifts on our website AllTheBuzzGifts.com and you can be proud to share with your friends that these baskets are all made here in San Jose –  handmade with love from all of the busy bees here at our beehive!
5 Galentine's Day Gifts
1 click to buy these baskets and be sure to scroll to the bottom of this article to check out some of our gift baskets made with locally sourced products.
Galentine's Gift Itemes Filled with Locally Sourced Items That are Made by Local Makers here in San Jose.
Do you want a more customized gift? Email us and let us know what you need. We love to personalize and customize your gift baskets. OMy email is Shawn@AllTheBuzzGifts.com and my team and I love to create custom gift baskets for our clients.
Here is a link to our FAQ's and the shipping costs:  FAQ's 
If you would like more information about or custom gift baskets and our corporate gift baskets, click on this CUSTOM basket link.
Have a birthday coming up and in a time crunch? Check out our Birthday Gift Baskets  –  we ship them from our workshop in San Jose, CA
corporate gift baskets, galentine's day gift baskets, local gift baskets, locally sources gift baskets, san jose gift basket experts, san jose gift baskets, valentine's day gift baskets