Creative Business Gifting Ideas for Corporate Clients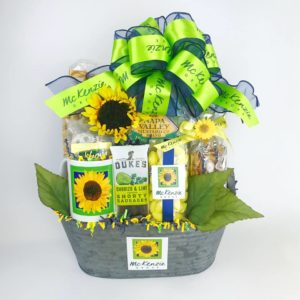 Let's talk about the "corporate gift"
Corporate gifts can be very lush and nice and some of them can be a bit silly, too. We have every type you can imagine – literally – because we can customize your corporate gifts to your client. If you have an extra special requirement, let's talk by phone or you can fill out our form and send us more information about your business gifting needs. We would love to give you a free consultation by phone to go over the options. (Tel: 408-504-3703)
If you're the "giver" of a corporate gift, how do you stand out above the rest and make sure you send your important clients something that is immediately used and appreciated. (And, not thrown in the recycler!)
Here at All The Buzz, we don't just create and provide gifts, we endeavor to create fantastic and memorable gifts for you to give. For us, details matter.
Now let's talk about the types of corporate gifts that leave our hive here in San Jose everyday.
Looking for "made in California" or Bay Area-themed gifts? We have it!
We pride ourselves on finding locally sourced products for our Bay Area and California based gift baskets. We have locally sourced honey, candles, chocolate truffles, lavender bath salts, caramel, popcorn, sweet and spicy jalapenos, and rice krispy treats all made by local artisans. These products are all tested here at the hive and we make sure that all of our products are fresh and are very high quality made by our local vendors. We love working with indie businesses and we love sharing their fabulous products with you. (Plus we love sampling them here in our workshop!)
Food Themed Gifts
Let us add your logo and company colors
Read more
Branded Products
Water Bottles, Mugs, Magnets & more
Read more
Luxury Branded Gifts
Luxury Gift Baskets for Employees or Clients
Read more
Or Choose From Our Premade Business Gift Baskets and Bags
We do have a section on our website specifically for our business gift baskets and they range in price from $20 to $275. We also give bulk discounts for large orders, so be sure to get in touch with us for large orders. Be sure to check out all of our other categories for inspiration, but we also have a form here that you can submit with your custom or bulk order request so we can get you pricing.
While you are searching for the perfect inspiration for our corporate gift, be sure to check out our All Occasion baskets, our Thank You Gift Baskets and our Same Day Gift Baskets. Once you find some baskets that inspire you, let's schedule a call and we can talk about your specific needs for your own clients.
Or Take it up a Notch With Custom Corporate Gifts for Your Clients, Staff or Strategic Partners
Property Managers Show Appreciation
We have helped lots of property managers over the years.  Our property manager clients are often looking for new tenant gift baskets and renewal gifts, event gifts, prizes, and the occasional apology gift baskets. (Pretty cool when you are a renter, the elevator goes out, and then your property manager sends you an All The Buzz gift basket, right?)
Welcome Gifts Make a Great First Impression
We have many customers who are in the hospitality and convention business and we work with them on their VIP Welcome gift baskets, gifts for wedding couple and parents when the wedding is held in their hotel or convention center. Sometimes our hotel owner clients ask us to create custom gift baskets for wedding parties and for their convention attendees.
Silicon Valley High-Tech Companies Brand Their Gifts
And, since we are here in Silicon Valley, we do have quite a few high-tech companies as clients and they often have us create products in bulk with their branding and logos.  We can create mugs, water bottles, keychains, cookies and a few other things with their logo. We ask them to provide us their artwork and we can put their corporate logo on the product and on the ribbon we wrap their gifts with. We just love to make your gifts as custom and personal as possible.
Businesses Love Our Holiday Gifts
If you are looking for a holiday-themed corporate gift, we can help you with that, too.  Check out our blog about our Thanksgiving Fall Gift Basket Ideas and you can browse our holiday gift baskets for Christmas , New Year's Eve, Chinese New Year gift baskets, and Halloween gift baskets here.
bay area gift baskets, branded gifts, business gifts, california theme, corporate gifting, gifts with company logo, high-tech gift baskets, same day gifts, san jose gift baskets, silicon valley gifts, thank you gifts