Teacher's Appreciation Week |May 2020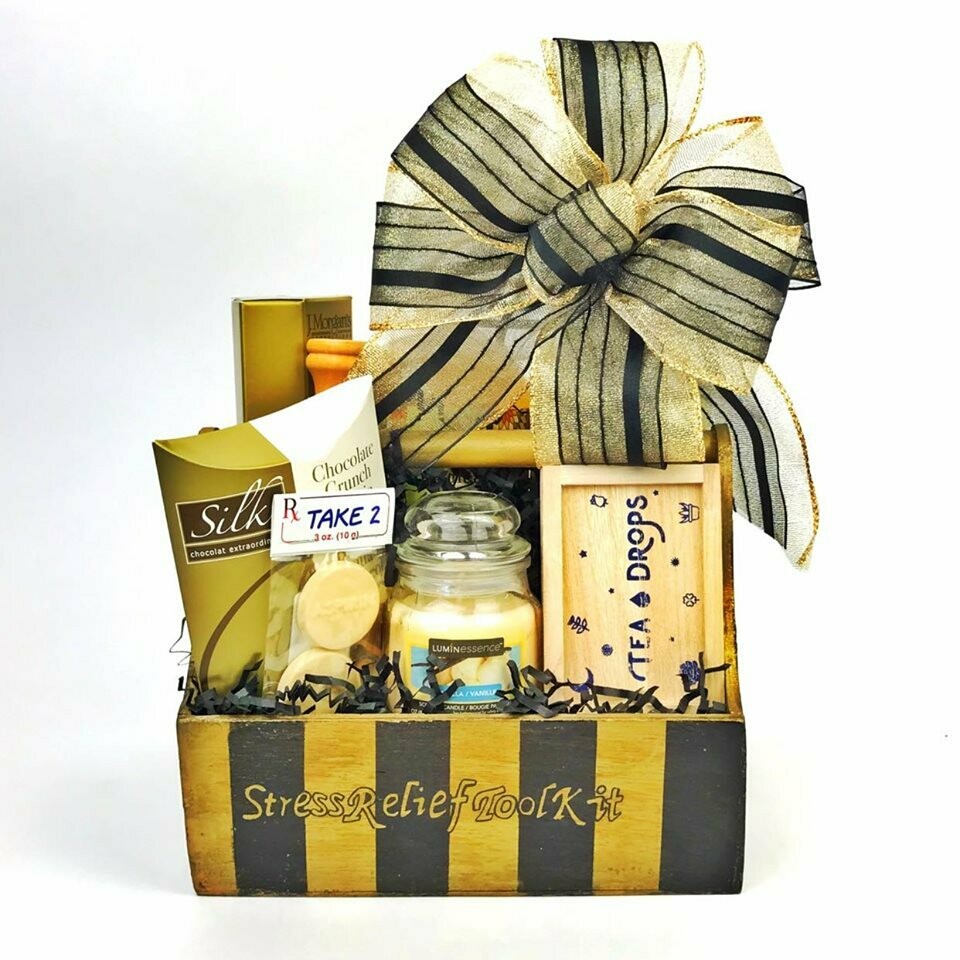 Teachers are always special and important, but this year even more so while we are all in quarantine. This Covid19 virus has really changed all of our lives and has been especially complicated for our teachers. They have had to be resourceful, flexible, and extra attentive that none of their "classroom" gets left behind while the entire Bay Area figures out how to continue to educate our kids during the pandemic.
Could your kids' teacher use a little extra love this year? We have some really fun gifts that range from $8 to $95.  Teacher Gifts Here
The gift pictured here is our Stress Relief Kit and it includes some chocolate, tea, candle, lotion, wooden foot roller they can keep under their desk, and some candy aspirin all for $55 plus shipping. And, we do ship all over the U.S. or you can come and pick up at our workshop in San Jose by appointment. (Call first to be sure it's ready to go for you. You can call or text me at 408-504-3703.)
We have the Snack Attack for $45, an $8 Thank You Box with Bow, a Superhero bag for $25, a mini Happy Hour kit and so much more.
You do not need to spend a lot to show your gratitude to teachers. They will appreciate any gratitude you show them for educating and shaping your mini humans. But, if you want to really spoil a teacher, we have our Wild About Teacher gift basket and a spa basket called Bee Luxurious.
There are lots of options and we can always customize your basket. For an extra $5 we can add a custom label with their name or the school's name. We can also customize your basket – just call me at 408-504-3703 or email me if you need a large volume of items or baskets. My email is Shawn@AllTheBuzzGifts.com – I would love to help you with a custom gift for a department or even the entire staff at your school.
Be sure to also check out all of our gifts for essential staff and frontline workers here.
Nurse Appreciation Gifts | 2020 is the Year of the Nurse | May 6th is Nurse's Day
Gifts to Give Essential Workers, People on the Frontline, and your Favorite Nurses and Doctors
bay area gift baskets, comfort gift baskets, comfort gifts, covid19 gift baskets, essential staff gifts, essential worker gifts, frontline gifts, gift baskets in san jose, gift for educators, gifts for home school teachers, gifts for quarantine, gifts for teachers, quarantine gift baskets, quarantine gifts, san jose gift baskets, teachers appreciation week, teachers week, thank a teacher