Halloween Gifts For Office Staff
Halloween Treat Ideas for Office
Halloween is such a wonderful holiday for corporate gifting because it is not tied to any religion. It can also be a fun employee morale booster, too. And, we have Halloween gifts for all budgets. And, if you are buying these gifts for your company, we can make 1 to 1,000 units if you give us enough time to prepare and produce. (And, keep in mind, we are having some supply chain issues, too. Just like much of the rest of the world.) You can buy this Boo Basket here for $27.
Be sure to check out our Halloween video with fun gift basket creations we have made for all kinds of companies and consumers. VIDEO HERE. If you cannot open the video, check out our Facebook page www.Facebook.com/AllTheBuzzGifts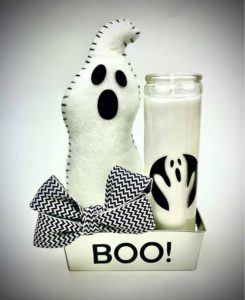 We love to make our gifts as spooky and as scary as possible here at All The Buzz. We even have this super creepy rat in this gift – we call this one "The Eyes Have It" Halloween Gift Basket. There is also an adorable pair of Halloween dress-up glasses. (With no lenses.) There are lots of gourmet edible goodies to go along with all of the spooky eyeballs! $75 and you can buy it here. We ship our baskets all over the U.S.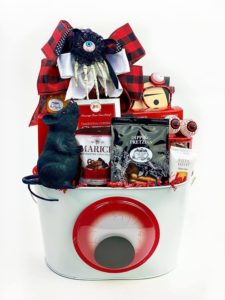 It does sort of feel like we are living through a Zombie Apocalypse, so we decided to commemorate the Zombie Apocalypse with this $65 Halloween Gift Basket. This would be a fun Halloween gift for your office staff, too. The spooky Zombie Apocalypse Halloween Gift Basket is perfect for your girlfriend, boyfriend, mother-in-law, or your boss! And, it is $65 and you can buy it here.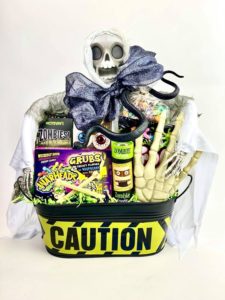 We love witchy poos at All The Buzzz gifts. This Witch's Brew" Halloween gift is a reuseable cauldron that you can put to use during Halloween season for years. We filled it with sweet treats of the season, including caramels, chocolate truffles, snack mix, chips, and much more. Great for Halloween snacking. Add a witch if you like! Our Witch's Brew basket is $65 plus shipping. You can also add a witch to the gift for an additional $35. Read more about the Witch's Brew gift here on this link.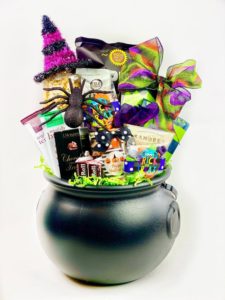 Custom Halloween Staff Gift Ideas
Our specialty at All The Buzz Gifts is Customized Halloween gift baskets for local companies and for corporate clients all over the U.S.  We have been operating our business in San Jose since 2004. We are family-owned and operated. Our specialty is making corporate custom baskets and can make anywhere from 1 to 1,000 for your company. (With enough notice, of course!)
We have all kinds of ways to customize and personalize our gift baskets. We can make ribbon with your logo or company name. (You just send me a file via email.) We can make custom water bottles, personalized coffee mugs, cutting boards, we can use our vinyl lettering and add your company name to our Halloween metal gift baskets, plus so many more custom ideas. We have so many ideas and would love to brainstorm with you and your company.
You can get some inspiration from our Halloween blogs from years past:
halloween gift basket ideas for your office staff, halloween gift baskets, spooky halloween gift baskets