Halloween Gift Baskets | Treats and Tricks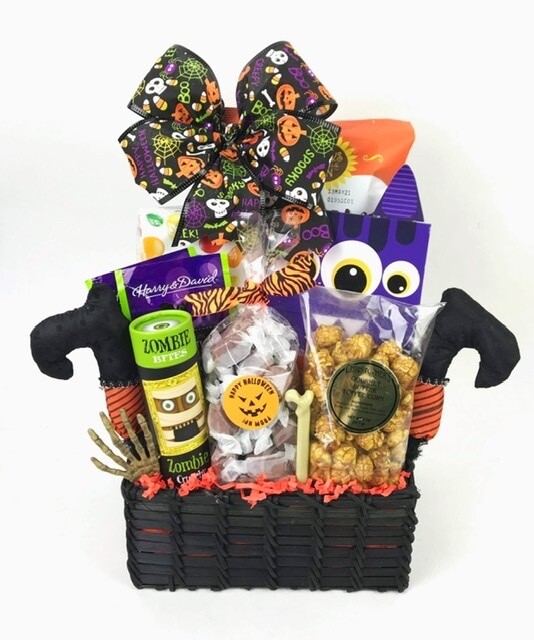 Halloween is my favorite holiday and we are gearing up for Halloween season 2020.
Of course, we have no idea what to expect this Halloween.  This pandemic has made all holidays difficult to predict, but we have been keeping very busy. Maybe in 2020, people are craving connection and wanting to send more love to their friends and family that they cannot see in person.
Corporate Halloween Gift Baskets
Each Halloween season we make a whole bunch of Halloween baskets for our corporate clients, but this pandemic year is like a roulette game. We have no idea where the ball will land on the wheel.
Will people be celebrating this year? I have seen a bunch of memes about turning Halloween into a "Mardi Gras" style Halloween and that we just throw candy at the cars as your neighbors drive by… but not sure that is Covid19 safe!
Often our corporate clients buy gifts for employees and gifts for contests and drawings that they hold for their sales or marketing teams. We have property managers that buy Halloween gift baskets for their tenants. We have H.R. departments that buy Halloween gifts since it can be more politically correct since it is not a religious holiday.
Halloween Gift Baskets: Sweet or Sour?
Some years we REALLY get into the designs of our Halloween Gift Baskets.
We build off or our client's energy and they inspire us to make the very ghoulish and spooky gifts. And, sometimes they inspire us to make less scary Halloween gift baskets.
Click here to see our "Creepy Gift Basket"
The Gift Basket with the big purple spider is our "Gleeming Halloweening" gift. Isn't that mirrored skull awesome?
NOT so scary Halloween Fun Box is perfect for young people, too.
This ghoulish box is colorful and had some Zombie Brew which is ghoulishly green hot chocolate!  Your kids will love it.
This gift basket made here in San Jose is called our Haunted Halloween basket. Check out the gorgeous purple bow and the scary spider.
We love to jump on a call with your to brainstorm ideas. You are also always welcome to email me your ideas and I can let you know what is possible. Of course, Halloween has a set date every year, so the deadline is very real with Halloween gifts.
Custom Gift Baskets in San Jose, CA
My email is Shawn@AllTheBuzzGifts.com or call me at 408-504-3706. I am sure we can find a perfect Halloween Gift Basket for your company or your family. We specialize in custom gift baskets and make all of our gifts here in San Jose. (Since 2004. Family-owned here in the Bay Area.) In fact, most of our orders are custom or personalized. We can add a personalized ribbon or a bow for your order. (Usually a $3 to $5 upgrade for custom ribbon.) We would be honored to help you with your Halloween or holiday gift baskets.
(Also, if you are in the San Jose area, you can always pick up your order by appointment at our warehouse out on San Felipe road. But, we do ship our baskets all over the U.S.)
corporate gifts in san jose, gift baskets halloween, gift baskets san jose, halloween gift baskets, san jose coporate gifting, san jose gift basket, san jose gift baskets