Custom Gift Box for the YWCA "Inspire" Luncheon
Custom Gift Box: Inspire Virtual Luncheon featuring Ms. Tarana Burke
We are so honored to be chosen as the official custom gift basket supplier for YWCA'S "Virtual Inspire Luncheon" to be held on October 28th, 2021. Even more exciting is the creator/founder of the "me too" movement, Ms. Tarana Burke, as their special featured guest.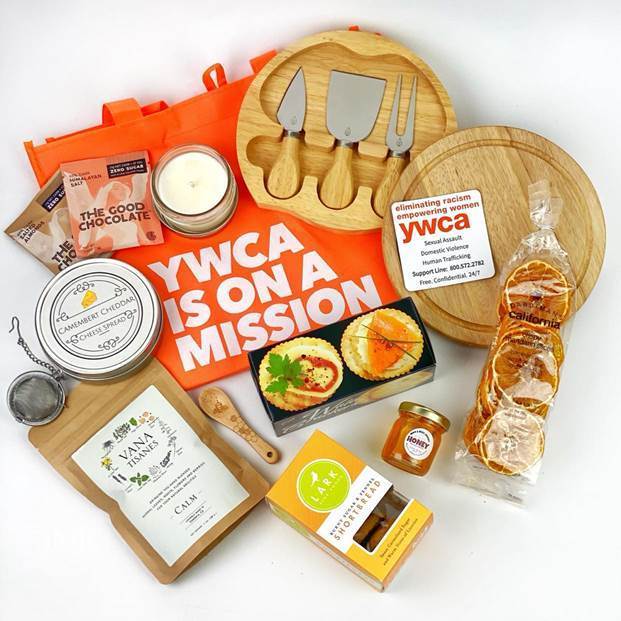 YWCA Golden Gate Silicon Valley is hosting its 31st annual Inspire luncheon- it's virtual for the second year due to COVID19- a fundraising event that helps support programs and life-saving services for more than 18,000 people annually. The event is scheduled for Thursday, October 28th, 12-1:30pm, and will feather a moderated conversation with Tarana Burke, founder of the "me too" Movement. 
The Luncheon has earned its reputation as one of the most powerful non-profit events of the year. It also features the presentation of the YWCA Empowerment Award, which celebrates and honors women in our community who are advocates and ambassadors for change. 
Registration is required (and very easy to do), but thanks to the virtual format, guests may tune to the event livestream from anywhere with an internet connection. For more event information and to register, visit  bit.ly/2021Inspire.
me too Movement Founder, Ms. Tarana Burke
Tarana Burke is best known for founding the "me too" Movement" and has dedicated her life to social justice work and giving strength to those who experienced sexual trauma or harassment. She was honored as one of The Silence Breakers, named TIME's 2017 Person of the Year, and named TIME's "100 Most Influential People" of 2018. Years before #metoo became viral hashtag, Burke founded Just Be Inc., a non-profit that helps victims. You can find her full bio here.
YWCA Golden Gate Silicon Valley Helps So Many Women and Children
We love working with our local YWCA and this year's gift boxes will go to the Inspire Luncheon Table Captains. YWCA Golden Gate Silicon Valley is on a mission to eliminate racism, empower women, and promote peace, justice, freedom, and dignity for all. Learn more about their services at yourywca.org and be sure to follow them on Facebook here https://www.facebook.com/YourYwca. 
Do you need an employee morale gift or another type of corporate custom gift? Check out this blog and our custom gift basket page here.
We would love to help you create something custom as we did here for this year's YWCA Inspire Luncheon. If you want to send a gift out for the Fall or the holidays, be sure to get your order in ASAP. As you may know, there are quite a bit of supply chain issues and we hate to disappoint anyone during Thanksgiving and Christmas time.
Call me at 408-504-3703. In case you are not aware, we have been making gift baskets and gift boxes here in San Jose since 2004. And, we ship all over the US.