Creative Corporate Gifts

Creative Corporate Gifts
The cool thing about gift baskets is that because we have so much inventory, we can turn any basket into anything you like.  We love making Creative Corporate Gifts for our clients using our Locally Sourced products, like those we use for our Bay Area local clients. You can check out this Bay Area Focused Gift Basket blog article here about some of our San Jose / California based products.  Or, we can take pretty much any item we sell (or you provide) and make an extra creative corporate gift for your clients, partners, or your employees.
Employee Appreciation Gifts
You can also check out our Corporate Gratitude Blog and Employee Appreciation Gifts here. We have quite a few corporate clients who have us ship out their employee appreciation gifts. We also ship employee meeting gifts – especially for big corporate Zoom or WebEx calls. They give us their employee's addresses after we coordinate the actual gift and then we ship them directly to their employees.
Corporate Gifts / Corporate Gifts that Includes Wine or Spirits
Want to provide your clients with a special bottle of wine as a Thank You Gift or want to send your team a special commemorative bottle of wine? We have ways to help you do that, too.  We have a close friend in the wine business who has some fabulous wine with special holiday labels or she and her winery can also make you a case of wine with your department or corporate logo on it. Just give us and Betty lots of lead time, please. You can check out Betty's Wine Musings here with all of her wonderful wine offerings/pairings that work great with our gift baskets, too. Perfect for corporate gifting or for your family holiday gift-giving.
New Hire Gifts
We work with lots of lots of famous Silicon Valley companies and manage their new hire gifts. and, in some cases, the company provides us with the outer boxes with their logo. They almost always supply us with their corporate s.w.a.g. and we often include some of our fun goodies or make coffee mugs/water bottles with your branding for you.  We are custom basket experts and we have lots of ways to personalize and customize items for your custom corporate gift baskets. (Mugs, water bottles, thermos, magnets, cutting boards, and other items.)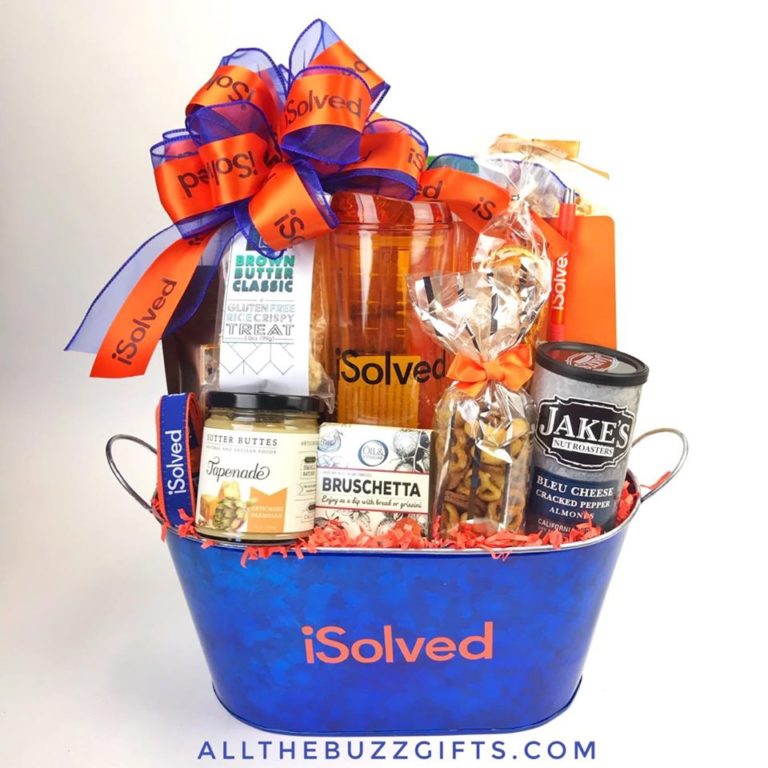 Onboarding Corporate Gifts
Employee Morale Gifts / Pandemic Work From Home Morale Boost Gifts
bay area gift baskets, corporate gifts, creative corporate gifts, custom gift baskets, high tech new hire gifts, new hire gifts, san jose custom gift baskets