Ways We Can Include Wine or other Spirits with your Gift Basket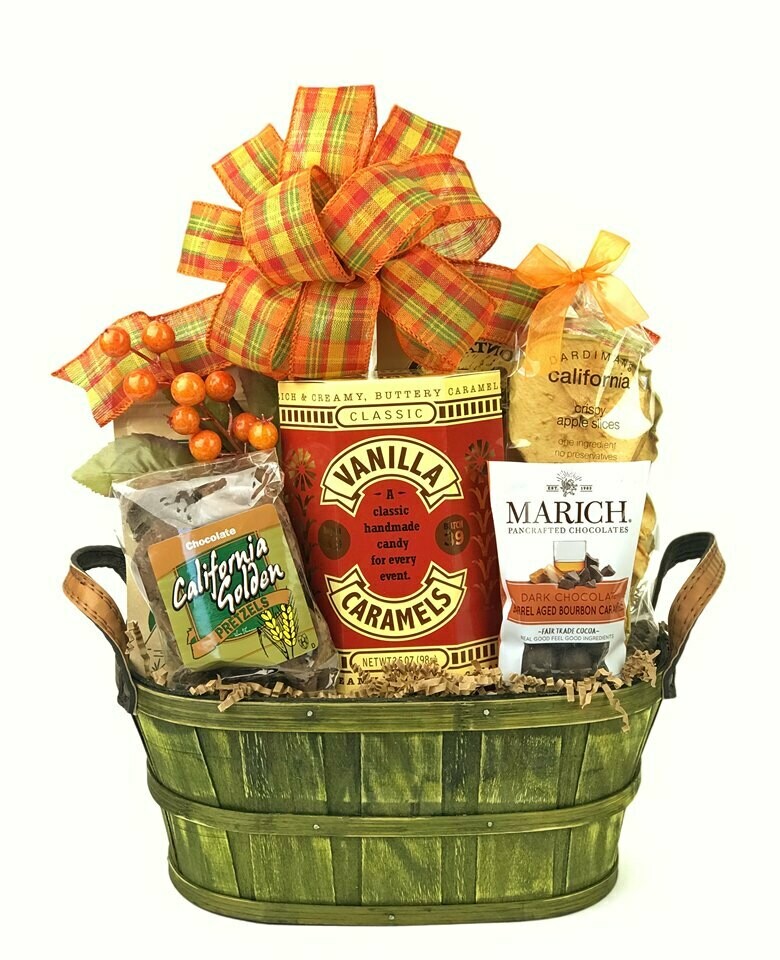 We have some really fun ideas for you about how you can add a bottle of wine or a special bottle of tequila to your gifts for your friends and colleagues.  We would love to help you with this kind of custom baskets for your company or for your family.
Our friend Betty Kaufman, the wine lady with Wine Tastings and More and her blog is Betty's Wine Musings  has a variety of options for you.
Betty is local here in the Bay Area. And, she hosts wine tastings and now, virtual wine tastings, plus she sells all kinds of delicious wine.  Her winery does all kinds of fun things with a bottle of wine and can potentially include your logo, team mascot, department motto, or anything you can think of.
Here are all the fun ways you can work with Betty and her wine into your corporate or personal gift baskets.
 Virtual Wine Tasting:  You can package one with a basket and her wine. You can call or text Betty at

650-714-7009 and arrange or get more details.

Buy wine from Betty's Wine Tastings and More and have her ship it to All The Buzz Gifts to have us wrap it with your gifts. Text or Call:

650-714-7009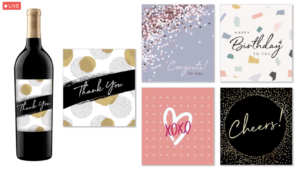 \
3. Betty's company also has these cool Specialty wine labels that can be used for a variety of celebrations. They have a "Thank You," "Congrats," "Happy Birthday" and others. (Check the graphic below.)  Get them ordered and shipped to All The Buzz Gifts on San Felipe Road or drop them off at the beehive.
4. Betty and her winery can also make custom (personalized) wine labels for your company, department, team, or employees. This option has a longer lead time and the earlier you get her your order, the sooner she gets them ordered. You send your artwork, photo or logo to Betty, and then she takes that and makes it into a wine label. (She recommends you order a case to offset the price for the customization.) Then, either you can drop them off at All The Buzz Gifts, they can ship them to our beehive or you can have them shipped to us so we can include in your gifts.
There are other services that can also deliver booze to our hive for us to include with your gifts. These will not be personalized like Betty's wine, but if you wanted to send a Thank You gift to the people in your department, you could order our Thankful Gift and include a bottle of vodka from Saucye.com or Shipt.com and just have it shipped to us, so we can include it with your basket. Or, you can have the booze shipped directly to recipient and have them match out gift,and your booze gift matched up when they both arrive at the recipient's office or home.
We LOVE to customize and personalize your gifts. We also love brainstorming and spitballing cool custom gift basket ideas for you. Feel free to email me at Shawn@AllTheBuzzGifts.com or give me a call at 408-504-3703. We can come up with some fun ideas and I can even prepare a quote for you and send it over for your approval.
Our office is in San Jose at 4605 San Felipe Road, SJ, CA 95135.  You are also always welcome to come to our workshop (by appointment) to pick up your orders to save on shipping. But, we do ship all over the U.S.  We look forward to working with you soon.
We specialize in custom corporate gifts:
Corporate Gratitude Gifts | Employee Appreciation Gifts from All The Buzz
Retirement and New Hire Gifts for our Corporate Clients:
bay area gift baskets, corporate gifting, gift baskets as thank you gifts, gifts for new hires, new hire gifts, personalized gift baskets, san jose gift basket experts