4 Gift Ideas For Pride Month 2021
4 Gift Ideas for Pride Month 2021
June is Pride here in the Bay Area. But, we hear that Pride month is in other months in other states. Phoenix Pride will be in November, for example. This is a website with Pride events in Denver, Chicago, Helsinki, and more. We hope you like our Pride Gift Ideas. If you have some ideas for more, leave a comment. We love to customize our client gifts. We would love to have some more gift ideas for pride month in 2022.
And, our local Bay Area Football team, the San Francisco 49ers, is having month-long celebrations for Pride month. (This tumbler and mug were made by our friends Luxjoy & Comfort.)
The San Francisco 49ers announced on Thursday month-long plans for the organization's annual celebration of June LGBTQ+ Pride month. Led by 49ers PRIDE, the official fan club of 49ers Faithful who identify as LGBTQ+ and allies, the 2021 celebration will be highlighted by the 2021 49ers PRIDE Collection, the first-ever gender-neutral retail line released by an NFL team.

4 Fabulous Pride Gifts 2021
We created 4 fabulous gifts for Pride this year. We hope you enjoy them. We will start working now on more gift ideas for pride month for 2022!
The first one we created is up on the left corner here with the mug and tumbler. You can get it with one or both items. BUY it here and check out the
This next gift for Pride includes rainbow socks, rainbow pronoun socks, sparklers, and a rainbow heart water bottle. $55 plus shipping and we do ship all over the U.S.  There are even some celebration candies in this gift box. BUY HERE $55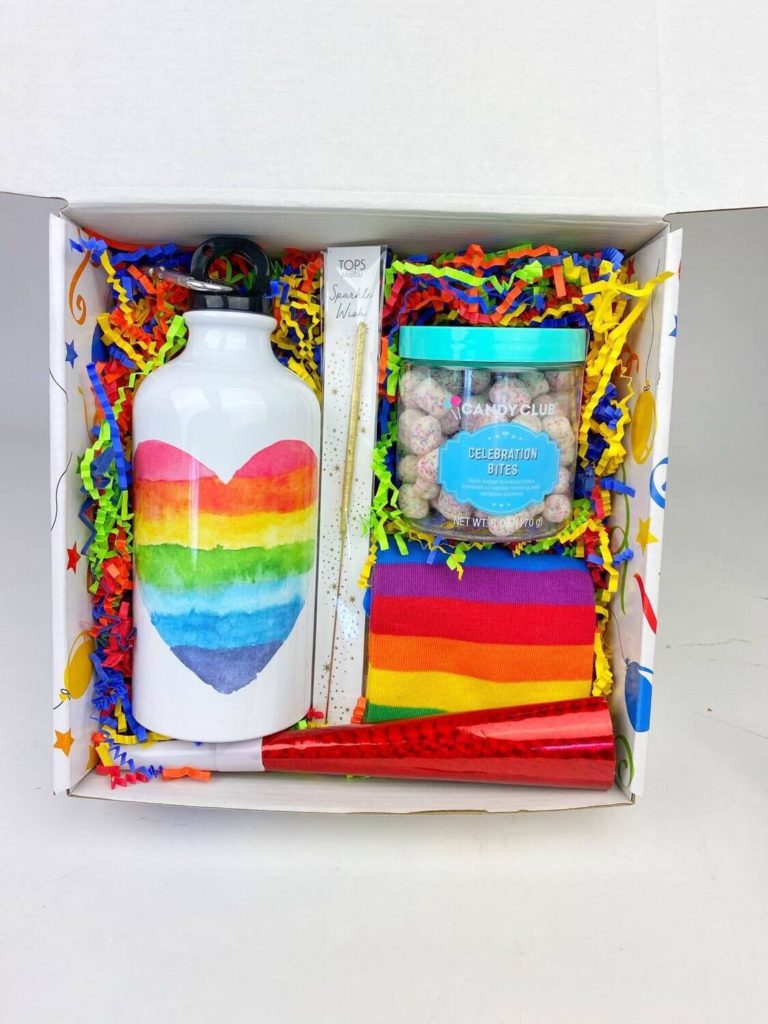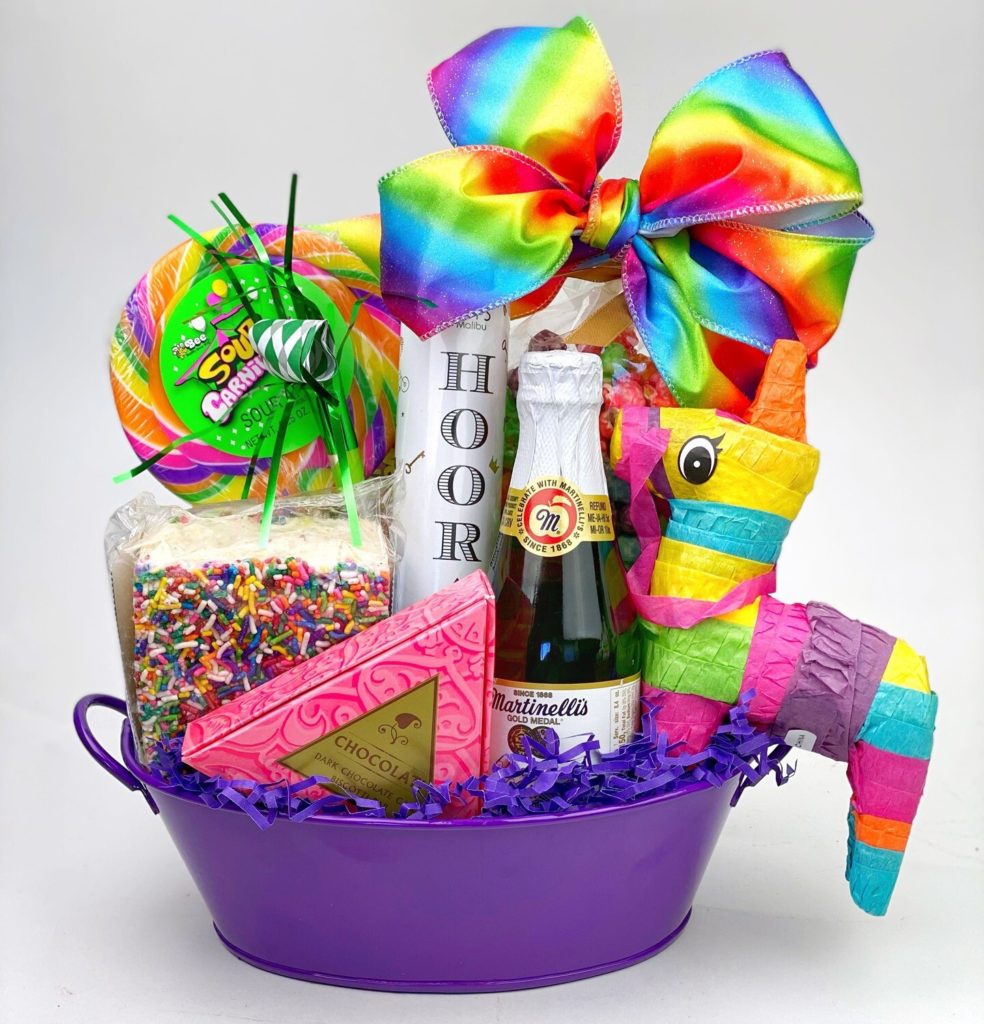 Pride Parade Party Gifts
This is a party in a bucket! Take it to the Pride Parade or send it to your friends just for fun. This one is $65 and you can buy it here. We ship all over the U.S., too. (If you are in Canada, we can work something out, but you do need to call me at 408-504-3703.)
Product Details: (4 Gift Ideas for Pride Month 2021)
This gift screams celebration, and includes all the makings of a party: Candy, confetti popcorn, sprinkled Krispy treat, biscotti chocolate bar, giant lollipop are included. Also, included for fun, is a blower, mini pinata & "Hooray" confetti fountain. Customizable in several ways, give us a call for your options. Perfect as congratulations, birthday, or a work from home anniversary!    BUY HERE
We are always ready with birthday presents all year round. And, this basket could work as a birthday gift, too.
This next gift is also great for Pride or for a birthday gift. The candle smells so completely edible… but it's not! The chocolate bar that it comes with is also delicious and it includes some other fun goodies, too.  We can mail or ship this one to your birthday buddy. It is also fantastic for companies to use to ship their employees a birthday gift. We would love to help you and your business to thrive. Just provide us a spreadsheet and we can take care of your birthday gifts all year long.  BUY HERE for $35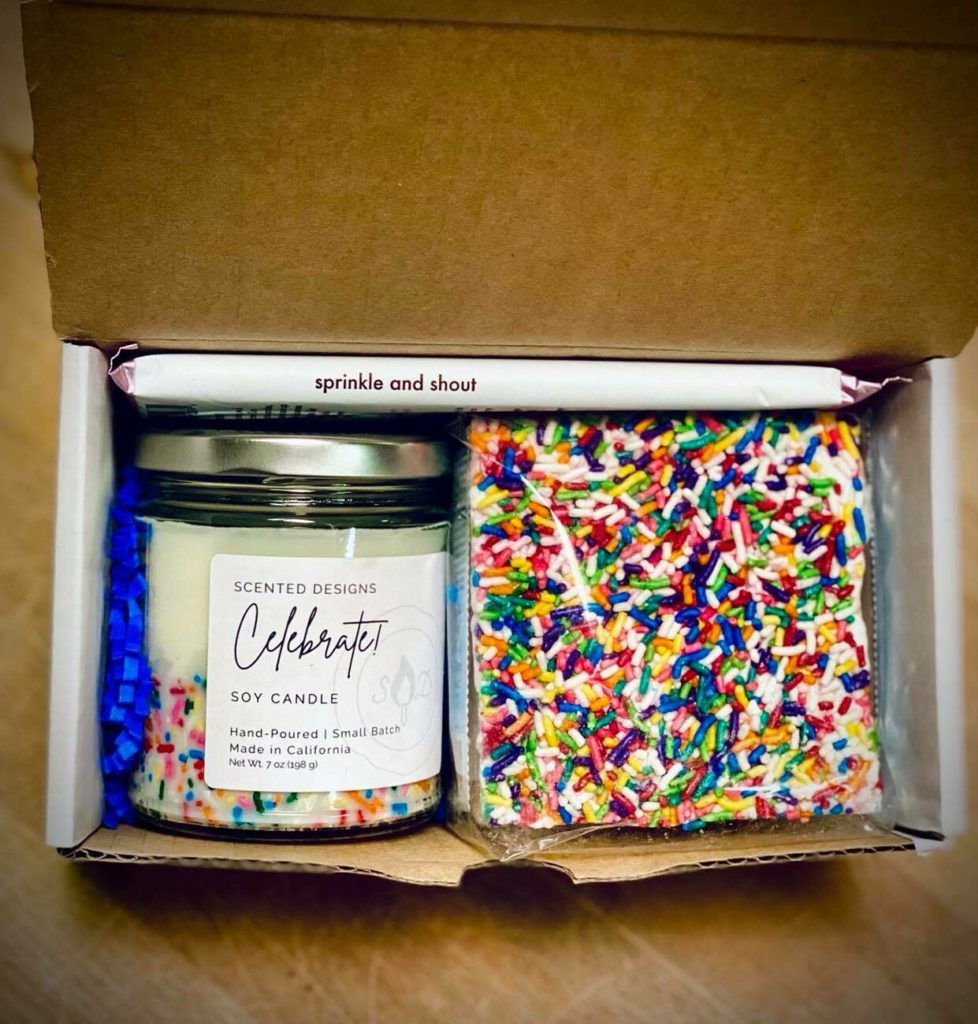 Custom Gift Baskets Made in San Jose
We do specialize in custom gifts and can personalize all gifts if you like. Many people are surprised to learn that most of our business is for corporate clients. We do lots of New Hire gifts, employee anniversary gifts, and lots of other corporate gifts all year long. Check out our Custom Gift Basket Page, here.  And, feel free to call me or email me any time so we can brainstorm gifts for your friends, family, or employees. My email is Shawn@AllTheBuzzGifts.com or call me at 408-504-3703
birthday gifts for employees, birthday gifts in san jose, pride gift baskets