Employee Thanksgiving Gifts
Just because we might not all be around to show thanks together doesn't mean we should stop showing thanks! Your employees, now more than ever, are likely craving recognition, interaction, and appreciation. We can help and make it a simple process for you. We can even ship each of your employee's gifts to their home if they are in the U.S.
We have heard that here in Silicon Valley, in 2020, lots of companies were thanking their employees via a Zoom call or a Slack channel. And, we have heard some local companies giving employees an extra few hours off and taking them for a long lunch as a Thank You gift.
But, let's face it, this year and 2020 are really trying all of our nerves, right? And, we have all heard of the "great resignation" and that employees are not really feeling the love. So, let's fix that,  We have just the solution.
Customized and Personalized Gift Baskets for your Employee
We can personalize all of our gift baskets and gift boxes. (Yes, with their name or your logo – or both.) Of course, there is a small extra fee, but we can use vinyl lettering or make custom ribbon for your gift. We can also make big custom coffee mugs, water bottles, and lots of other fun items. Our technology allows us to add their name or your company name to lots of surfaces and products. (The below gift is an item we created for the local Silicon Valley YWCA.  Fall & Thanksgiving Gift Baskets.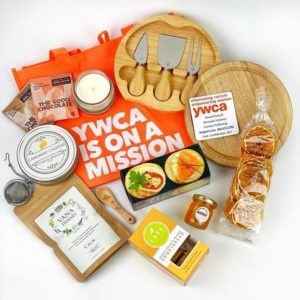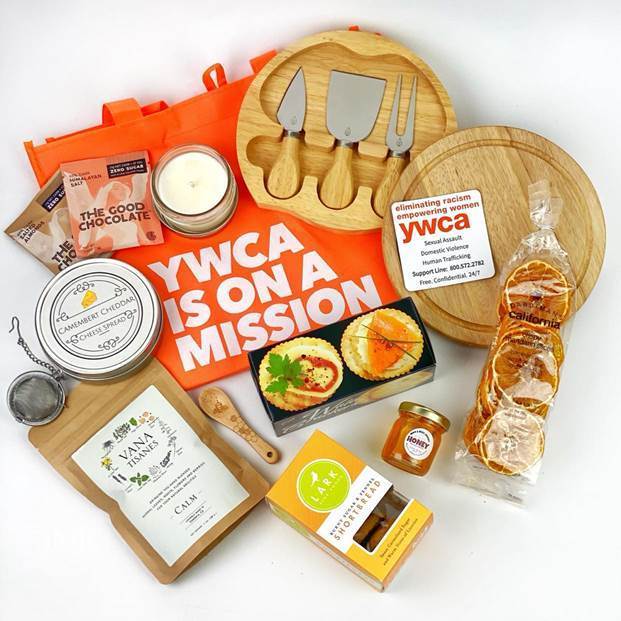 You likely know this already, but the earlier you order the better. Lots of supply chain issues and lots of delays from the big shipping companies. So get your orders in a.s.a.p.  Give us a call and we can brainstorm and come up with a gift for your employees. We have so may more ideas and items than we can really show on our website. The possibilities are almost endless. I will share more of our custom items below to give you some inspiration.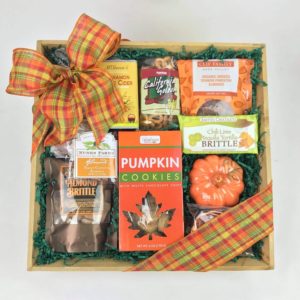 We call the above gift box our "Fall Favorites" but it is so easily customizable and personalized! $65 plus shipping.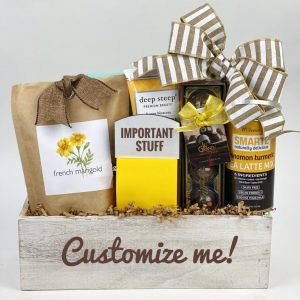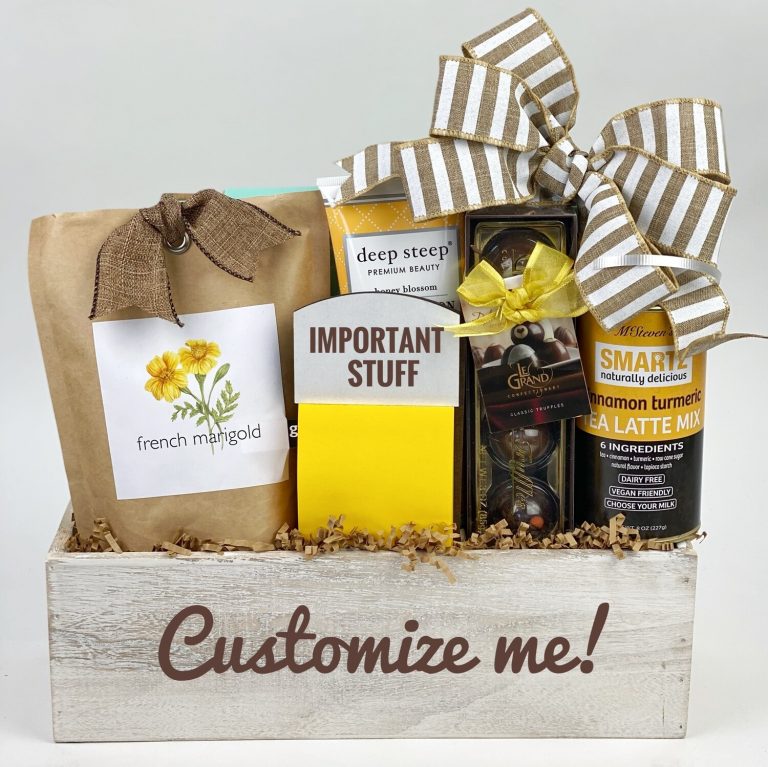 This "Customize Me" gift box is super customized – the box, the post-it notes. Everyone LOVES this gift.