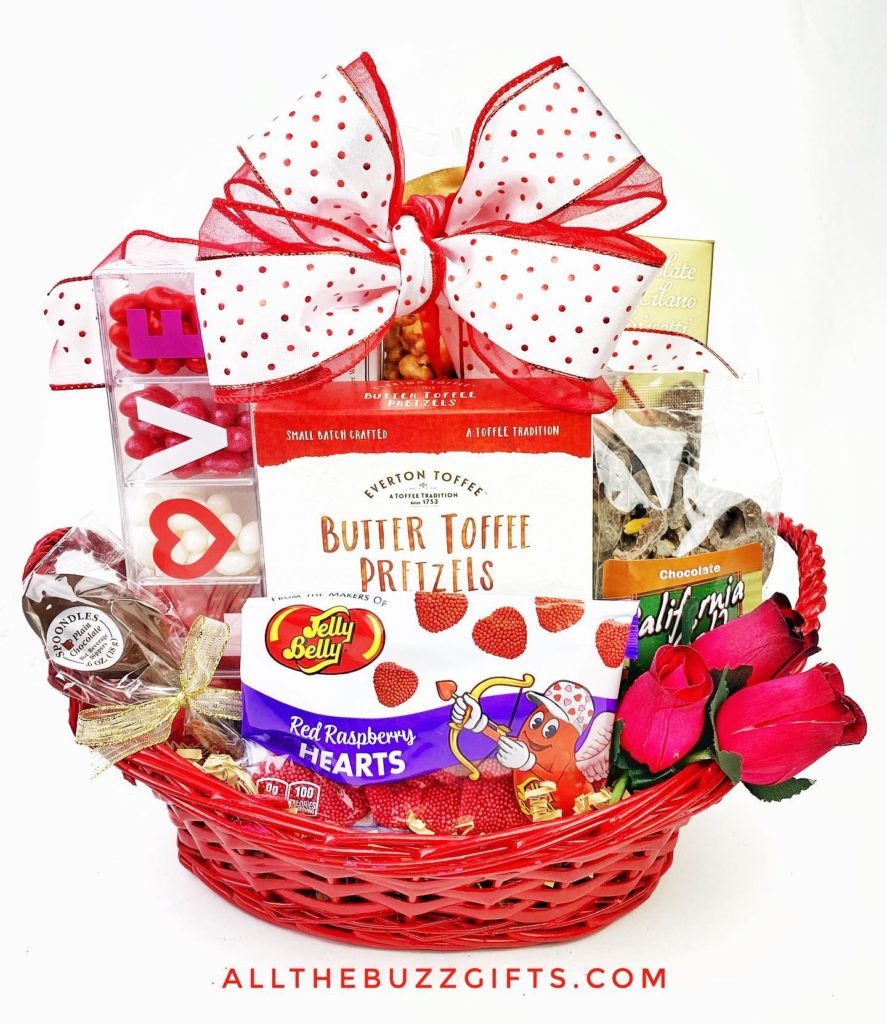 Valentine's Day is a great day to show appreciation to your employees.
I started my gift basket business in 2004 and have seen a lot of trends come and go. In the past 5 years or more, we have seen many clients send fun Valentine's Day gifts to their employees, too.
So many people are working from home; this is one more way to show your appreciation for your employees and improve your employee morale, too.
We have small, medium, and large Valentine's gifts we can ship to your employees or clients. And, if you are local, we can also schedule a covid safe pick up at our beehive in San Jose. (This is by appointment, only, please.) Save on shipping!
Custom gifts are our specialty and can work within your budget, typically.  We have items that start at $20 (plus tax and shipping) each all the way up to $150 each or more. We can also create a completely custom gift for you.
Would you like your logo on your gift? We can put your logo on tour ribbon, we also have a vinyl cutter that can allow us to personalize certain style gift baskets and gift boxes. Call us. We have lots of ideas for you!
Your employees are incredibly valuable to you.
Check out our CUSTOM page for more information and you can always email me at Shawn@AllTheBuzzGifts.com or call me at 408-504-3703. We love making custom corporate gifts. Custom and personalized gifts are our specialties.
From SmallBusiness.Chron.com; Ideas for Employee Recognition During Valentine's Day:
Recognizing employees on Valentine's Day can sometimes pose a challenge since this holiday is so closely associated with couples and has such a strong romantic connotation. Instead, acknowledge and celebrate your employees' performances by making this holiday a day of appreciation with a slight Valentine's day theme.
Check out the cool new spa gifts that would be great for an employee gift or even a gift for your sweetie.
Click on the images of our Valentine's Day Gifts and the link will take you to the website to buy. We can also customize a gift basket for your