Gift Baskets For Babies
Custom Gifts for The Special Baby In Your Life!
Babies are always a blessing, as they say! We love creating gift baskets for babies. Here are just a few of the custom gift store baskets that we are offering for newborns and expecting parents.
We currently have eight to 10 gift baskets that are perfect for baby shower gifts. As always, we also offer our specialty custom gift baskets!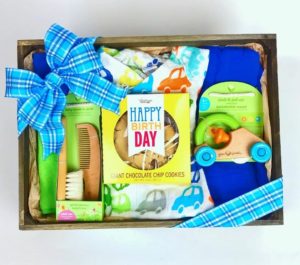 This particular wood crate is filled with organic baby essentials including a colorful car outfit with a coordinating swaddling blanket and two burp pads. It is finished off with a natural comb & brush set, a wooden car rattle and a giant birthday cookie!
If you have a colleague at work who is expecting a baby, we would be happy to create a group customized gift from you and your colleagues! Just send us an email at Shawn@AllTheBuzzGifts.com with information about the recipient of the gift and what your budget is. We can make an extra special gift for the expecting parents in your life! In addition, you can call me at 408-504-3703 to discuss your baby gift.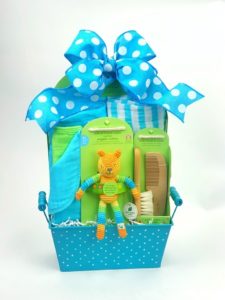 We call this blue custom gift basket "Little Pleasures."
This adorable, dotted tin is filled with a set of all-natural swaddling blankets, two burp pads, a teddy bear toy and a comb & brush set.
We keep this item in stock for quick shipping, which we provide anywhere within the U.S.! Purchase Little Pleasures at the link below.
Buy Little Pleasures Here for $60. 
Don't know the gender of the baby? That's okay; we have gender-neutral gift baskets too! Just ask. You can share information with us about the parents, such as their interests, hobbies, favorite sports teams or anything that they like, or you would love to give them. All of this information is helpful for creating an extra special custom gift basket for their family.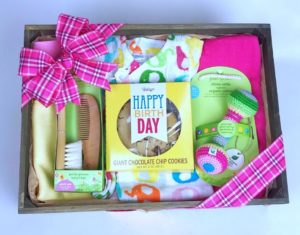 We call this custom baby gift basket All-Natural Baby Girl. You can buy here for $90.00 plus shipping.
The wood crate is filled with fun, organic baby essentials. This includes a colorful elephant outfit with a coordinating swaddling blanket, two burp pads and a natural comb & brush set. It is finished off with a bright rattle and a birthday cookie!
Custom Gifts for New Babies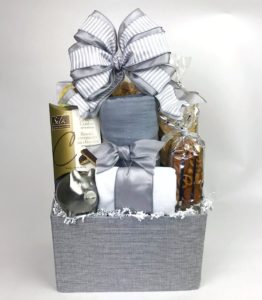 We also have this gorgeous and elegant gift basket. 
This one is filled with a few baby essentials including an organic, all-natural swaddling blanket, a burp pad and a beautiful pewter piggy bank. In addition, there are some snacks and sweet treats for the expecting parents.
Elegant baby gift basket. You can buy it here for $100 plus shipping. 
You can check out the link to all of our current baby gift baskets here.
If you want to learn the costs of shipping or view our delivery and pickup FAQ page, click here. If you are located in Canada and would like to order one of our baby gift baskets, unfortunately, you cannot order from our website! Please call or email us at Shawn@AllTheBuzzGifts.com to work out delivery options and get a custom quote for Canadian shipping.
Want to support local businesses? Check out our elegant gift baskets featuring products from some of our local vendors!
baby gift baskets, baby shower gift baskets, gift baskets for babies