Father's Day is Coming | Father's Day Gift Ideas
Father's Day Gift Ideas : Dad's Day Gifts
We are in San Jose, but we ship all over the U.S.!  We love to spoil dads all over the country with our San Jose Sharks, San Francisco Giants, Golden State Warriors, San Francisco 49er stadium cooler, Chocolate,  Golf or wine-themed baskets.
This year, Father's Day is Sunday, June 21st.
And, since you cannot shop at the mall thanks to the Covid19 Global Pandemic (or maybe are not quite ready to go to the mall) we are happy to take care of your Dad for you. We have lots of gifts for dad's day.
Buy Mad Dad Skills Gift Here  $70 (Plus Shipping)
Did you know we have been making Dads (and Moms) feel loved for over 16 years? I opened All The Buzz in 2004! That is a lot of gift-giving. We just adore making our clients and their friends and family smile ear to ear.  You can read our YELP and GOOGLE reviews to see what our clients have to say about our baskets and me.
We are a family-owned business in San Jose. My own Dad is often at our workshop and helping out with production when we get super busy! Just recently he even reminded me of how important it is to stay up with all of the new trends in the gift basket industry.
He said, "you gotta keep an eye out for what people like, what's on-trend, and make sure you are offering what they like."
How cute is that? My Dad has always been an instrumental part of my business and I am eternally grateful to him for that. I am even going to sneak in a little picture of my handsome Dad at the bottom of this blog! I love him with all of my heart. Not sure how he will feel about me including a photo of him in a blog about a Father's Day present, but hopefully he is honored. 
Best Father's Day Gifts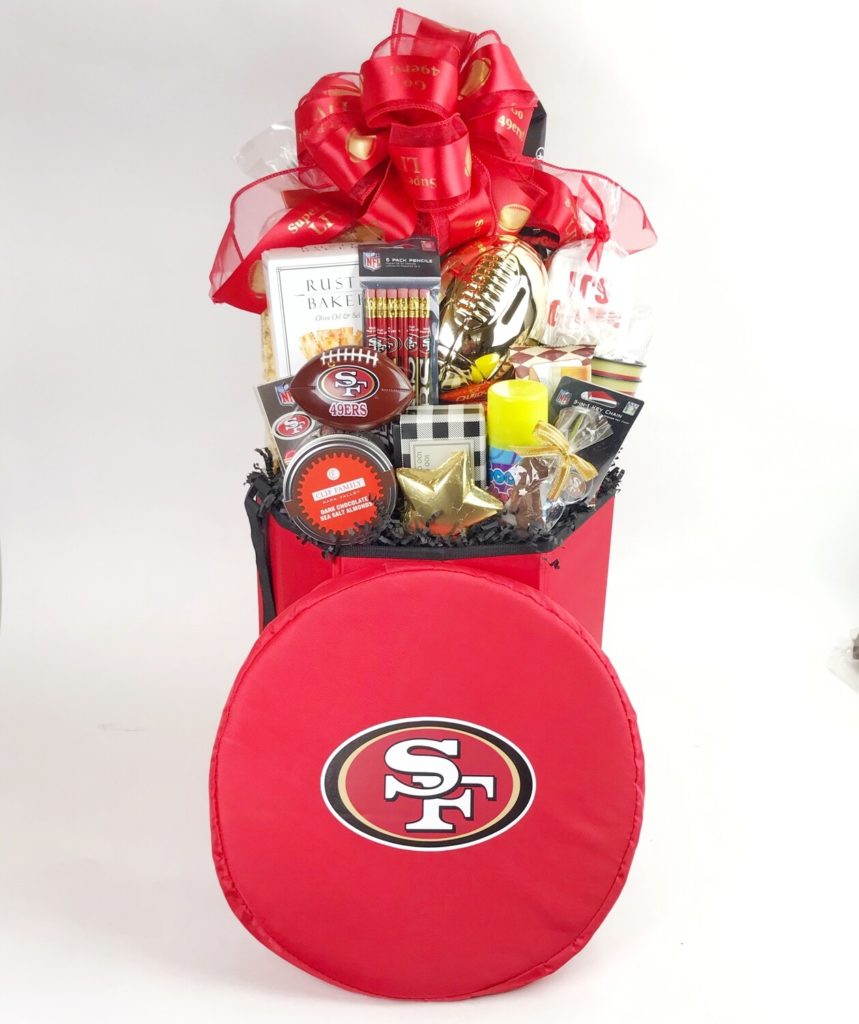 We know lots of our Bay Area Dads will love our San Francisco 49er Football Cooler. This is sturdy bongo cooler/seat is stuffed with game time snacks and 49er gift items that your Niner fan is sure to love. Plus, he can use it over and over again for tailgating.  BUY HERE $200 
Once your Dad enjoys all of the goodies we stuff inside this rad cooler, he can fill it with more snacks or even ice and some cold frosty beverages.
Bonus Father's Day Gift Ideas for you:
1. A few sleeves of golf balls.
2. Gift Card to his favorite shop for wine or beer buying.
3. A handmade card letting him know how much he has taught you.
4. A photo of the two of you together or framed family photo.
5. A gift certificate for a massage or even a Mani/Pedi.
6. Bake him his favorite cookies.
7. Get him a gift of some aged beef/steaks
8. Does your Dad like spicy things? Get him some of our friend Sonya's Sweet & Spicy candied jalapenos or a sampler of some hot sauce.
You can also buy Sonya's sweet and spicy peppers and spicy nuts here, too.
9. Make him his own signature blend of spices for his own tasty bbq!
10. Cashola! Slide a $20 or a Starbucks card in his Father's Day card.
Need more Good Father's Day Gift Ideas? 
When I was growing up, we called these stadium seats a "sit-upon."  We feature this Super Stuffed Stadium Seat in blue or black. Deluxe, adjustable stadium seat filled with ballpark favorites such as chocolate chip cookies, snack mix, waffle pretzels, peanuts, chocolates. Let us know if you want a favorite included. It also features essentials like sunscreen. This is a perfect gift for your Dad if he loves the outdoors and tailgating.   As you can see, we made this in the SF Giants Colors – orange and black! $150  BUY HERE 
We have some other gifts baskets that are great for Dad's day.  Is he a chocolate lover?  Would he enjoy an adorable mini golf bag cooler?   Do you consider your Dad your Superhero? Well, we have a Superhero themed gift bag filled with lots of goodies.
Does your Dad make lots of cheesy Dad jokes? We have The Big Cheese cutting board and cheese spread. $95 BUY HERE 
Or, email me and let me help you come up with something perfect for your Dad. You can reach me at Shawn@AllTheBuzzGifts.com or call me at 408-506-3703 and tell me about your Dad. I can make a personalized ribbon or bow for your Dad's gift for an additional $5. I have so many colors in stock, so let's make it special for him.
Now, here are the pics of my adorable and supportive Dad I promised: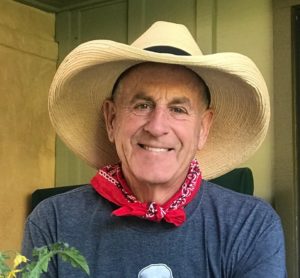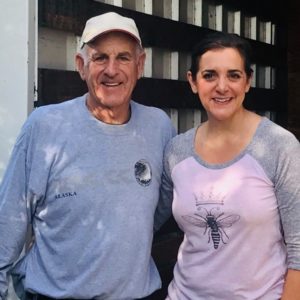 And, remember, we are in San Jose, but we ship all over the U.S.  You can also come and pick up your gifts from our workshop, but you do need an appointment verified by text because we are not always here in the hive! We can deliver if you are within 15 miles of our warehouse for a $20 fee. Again, this requires some coordinating, so let's please be sure we work out the details with as much notice as possible.  And, if you have a last-minute Father's Day gift need, call me.  Tel: 408-504-3703
If this is a last-minute present and you are in San Jose, no worries. We can work something out.  We have several great gifts for last-minute gift-giving – and if you are nearby – we can brainstorm with you on gift ideas and either get it delivered to you or arrange for you to come to our warehouse. We are here to help!
Unique Father's Day Gift – Just Added to our All The Buzz Website
Cool dad's day gifts, cool father's day gifts, Dad's favorite gifts, father's day gifts not from Amazon, last minute gifts, last-minute presents, mad dad skills gifts, rad dad father's day gifts, unique Father's day gifts