Employee Appreciation Day Ideas for 2022

Appreciation Thank You, Gift Tray, $65 Plus Shipping.
Do you know why it is important to reward your employees and staff in 2022?
Why Employee Appreciation Gifts Are More Important Now More Than Ever. (Thank you, Covid.)
The Great Resignation. (High attrition rates are not good for your company's bottom line.)
It is very expensive to hire new employees. (Lots of time and cash is required to recruit and hire.)
You get more productivity from an employee that feels appreciated.
Your company will benefit from more innovation from the employee which makes their job more fulfilling, for beginners. And, the additional innovation is fantastic for your company.
Foster kindness and gratitude as part of your company's ethos.++
Here at All The Buzz Gifts, we can make 1 to 500 of any of our pre-made gift baskets snd gift boxes. (With enough notice, of course.)
You can browse our website here for all of our pre-made gifts.
Or, you can also reach us via email Shawn@AllTheBuzzGifts.com about customizing or personalizing a gift for your team. I answer my email.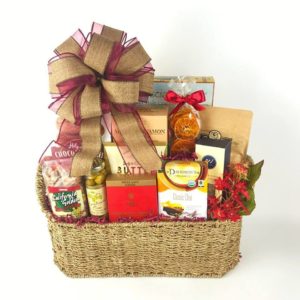 This Thinking Of You Gift is fantastic for showing your employee how much they are valued.  This one is $125. We pay all of the shipping for you – and for our mistake. Free shipping anytime you spend $125 or more at my boutique. We are actually the Custom basket experts. We do more custom and personalized gifts than baskets off our website. Most of our custom gifts require that we talk with you in person one time so we can strategize and get you a quote of exactly what we creating for you. We help customers all over the U.S. with their new hire gifts, their company anniversary gifts,  retirement gifts, and of course, client gifts, too.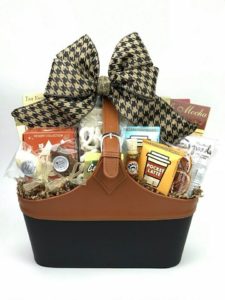 Personalized Gifts For Employee Appreciation
Here is a gift we call Customize Me. You provide us with your client to employee's first name and we can make a very simple custom gift for quite a few people very easily – and everyone loves this one! Includes a "post-it" note we can customize for the employee, too.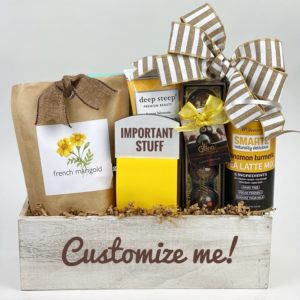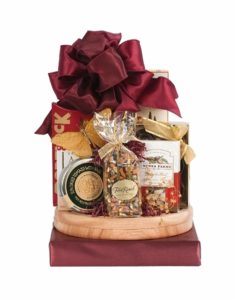 The Big Cheese Gift is fun for employees that have recently been promoted, too! Include a bottle of wine or apple cider to really make this gift a big statement and to show your appreciation. And, below is the Work From Home Survival Kit. 
This has been a pretty rough 2+ years thanks to the pandemic. We could all use a little help to keep our spirits up and to help us survive by shipping some kindness to your employees or clients. You can buy the small or large Work From Home Survival Kit. The choice is yours.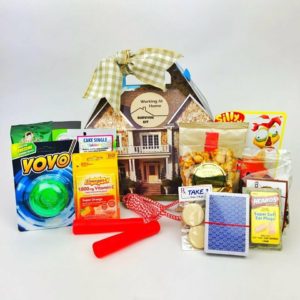 This remote worker's survival kit is the perfect gift basket for your remote work team If you would like to schedule a zoom call, we can help you brainstorm ideas for your employees. We can help you find an employee appreciation gift in your price range and one that fits the culture of your company, too. Or you can email us at Shawn@AllTheBuzzGifts.com. Our phone number is 408-504-3703
We have been creating gifts for people all over the U.S. and for a lot of Silicon Valley companies. We are so grateful they trust us with their new hire gifts and gifts for employee appreciation day, We have been in the San Jose area making gift bags since 2004. We love delivering gifts full of love and appreciation. We LOVE our work and we LOVE to thrill you, your client, or show your employee just how much you appreciate them today! 
Check out this custom gift we made for Apple in 2021 here
New Hire Welcome Gift Basket Samples here.
apprecation gifts for employees, employee appreciation gifts