Moving Day Custom Gift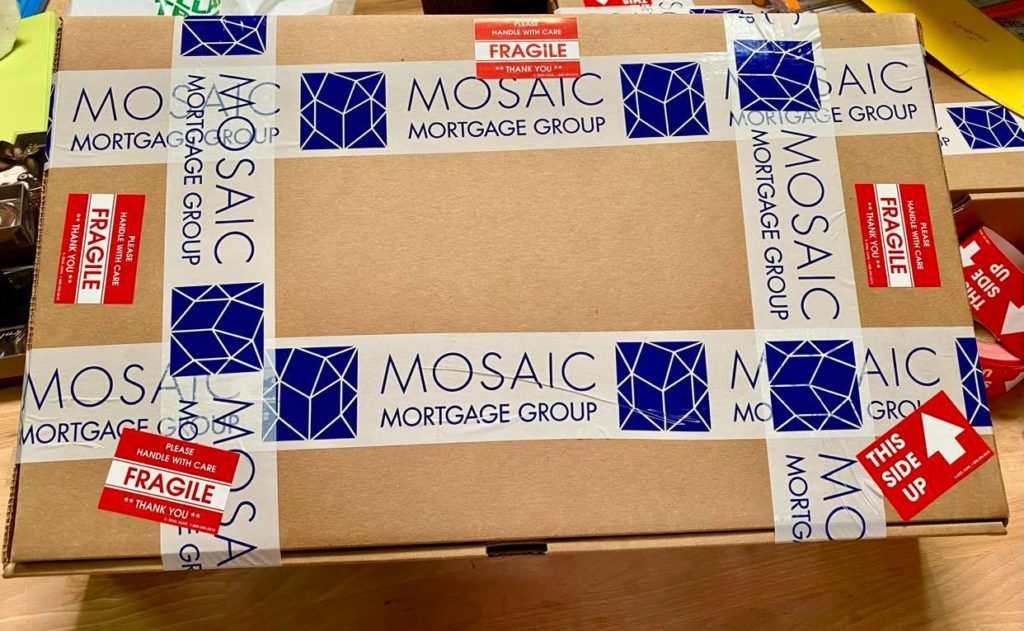 Our clients, Mosaic Mortgage Group,  hired us to make New Homeowner Gift Baskets and ship these custom gift baskets
(pictured below) to their clients that just moved into their new homes. Such a fun idea. Very creative.
Remember the last time you moved?  Such a nightmare, but Mosaic Mortgage Group came up with this idea to ship each of their new clients
a gift box filled with important items you they may be desperate for. (Like a toothbrush or a phone charger.)
You remember how it is trying to find all of your things all boxed up and moved by the movers. NO FUN! Being a new home buyer is so stressful.
Mosiac hopes this gift box helps make everything go a little smoother.
New Home Owners Gift Box
Mosaic provided us with some items (paper towels and toothpaste) and we made the custom Mosaic Mortgage mugs. We included the snacks, caramel corn,
toilet tissue, paper towels, phone charger, picture hangers, a USPS change of address form, hand sanitizer, first aid kit, tissue, notepad, pen,
box cutter, a pad of paper, pen, duct tape, tea and coffee bags, and CHOCOLATE, of course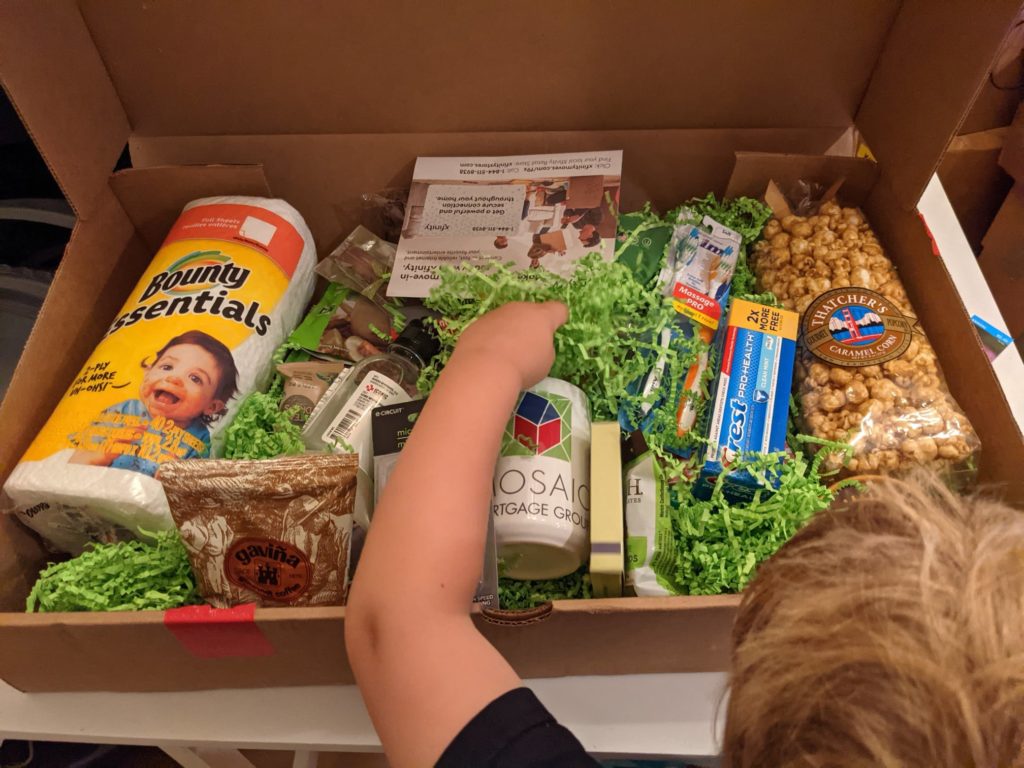 You can see this little guy is excited to check out all of the goodies inside this custom gift box.  We find that our lender and realtor clients are always super creative!
This is the official photo of the custom gift box below: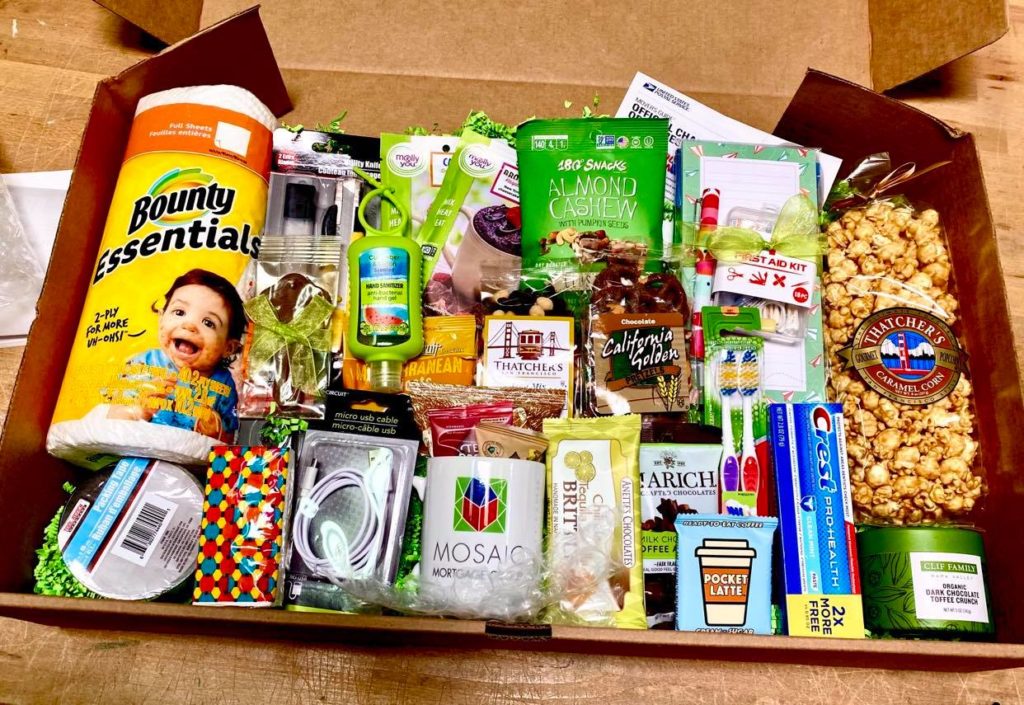 Paper towels, tissue, tooth paste, toothbrush, latte bags, custom mug, cell phone charger, a pad of paper and pen, caramel corn, toffee, choslate, hand sanitizer, USPS change of address form and so much more!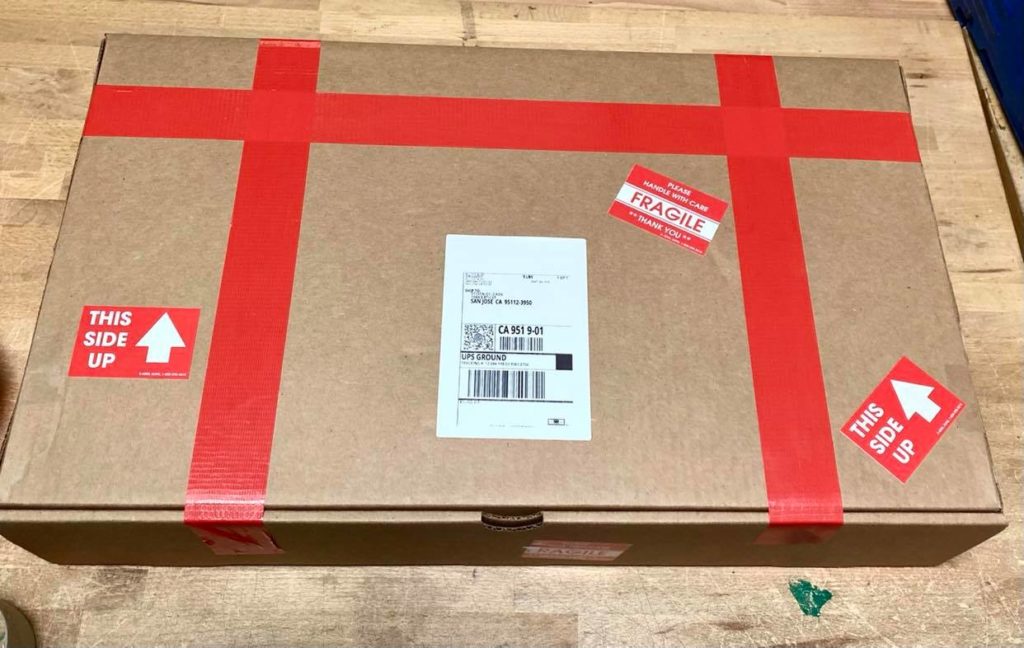 We also customized the outer packaging for Mosaic. It is just so finished and so adorable. I am pretty sure all of their clients are going to be very appreciative and very grateful for this amazing gift.
Can we make some custom gifts for you, your team, your company, or your family? Give me a call at 408-507-3703 or email me: Shawn@AllTheBuzzGifts.com
We specialize in personalized and customized gift baskets and gift boxes. We also have New Hire programs for corporate clients, anniversary gifts for employee appreciation, employee birthday gifts, and pretty much anything you can think of.
If you are planning on sending holiday gifts, please start getting your ideas together and get on our list as there are some product shortages and lots of shipping issues going on out there thanks to Covid. So, please order early so we do not disappoint anyone.
Need some ideas for Fall Gift Ideas?