Mother's Day – Let's Pamper Your Mom Without You Going to the Mall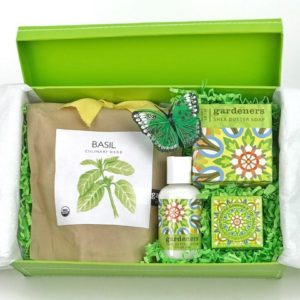 It is not very easy to get a super personal and extra special gift for your Mom during a pandemic! We got you, though. You may not know this, but we have been creating beautiful gift baskets in the San Jose area for over 15 years. This year, Mother's Day is Sunday, May 10th. Let's plan early to get her something extra special so she knows you are thinking about her this "quarantine" year.  (Do you love this great gift for someone loves gardening? This beautiful green box of gardening goodness would be a perfect Mother's Day gift if she loves toiling in her garden. BUY HERE. Just $35 plus shipping.
Did you know that we can personalize your gift basket? You can add on a $5 add on to any of our baskets and we can personalize the ribbon on your Mom's special basket. You can put "Happy Mother's Day Mom" or put her pet name or her actual name on the ribbon, too.  We can personalize it any way you like.
Since Mother's day is on a Sunday, if your Mom is not in California, it is best to get your order placed by the morning of the 4th of May at the very latest. During this pandemic, shipping times are not guaranteed by the carriers, so please keep that in mind. You can also add this fun mug to any of your Mother's Day gifts or gift baskets.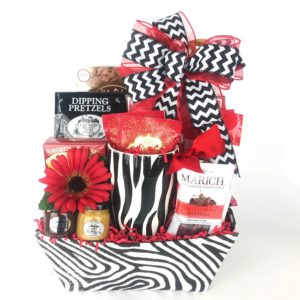 Is your Mom the zany or sassy Mom in your group? Maybe your Mom is more likely to wear leopard then she is to wear pearls? We have a super sassy gift for your special Mom. You Mom may be spicy and stylish and we want to help you honor her fabulous style.
We have lots of fun gift baskets for your Mom this Mom's Day! Here are some examples:
Mom's are definitely angels that walk among us.  This heartfelt basket includes an actual angel in this beautiful gift basket for your Mom.
Is your Mom a nurse or doctor? Have you checked out our special comfort and gratitude gifts for our essential staffers?
Moms often love flowers and tea. We call this one the Best Bouquet and the box is adorable and so are the goodies we put inside of our Best Bouquet, which includes tea, chocolate and caramel corn Gift Basket for this Mother's Day
For Moms that love chocolate, we have this chocolate lovers gift basket special for your Mom.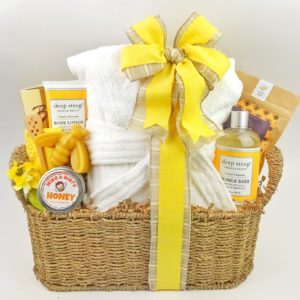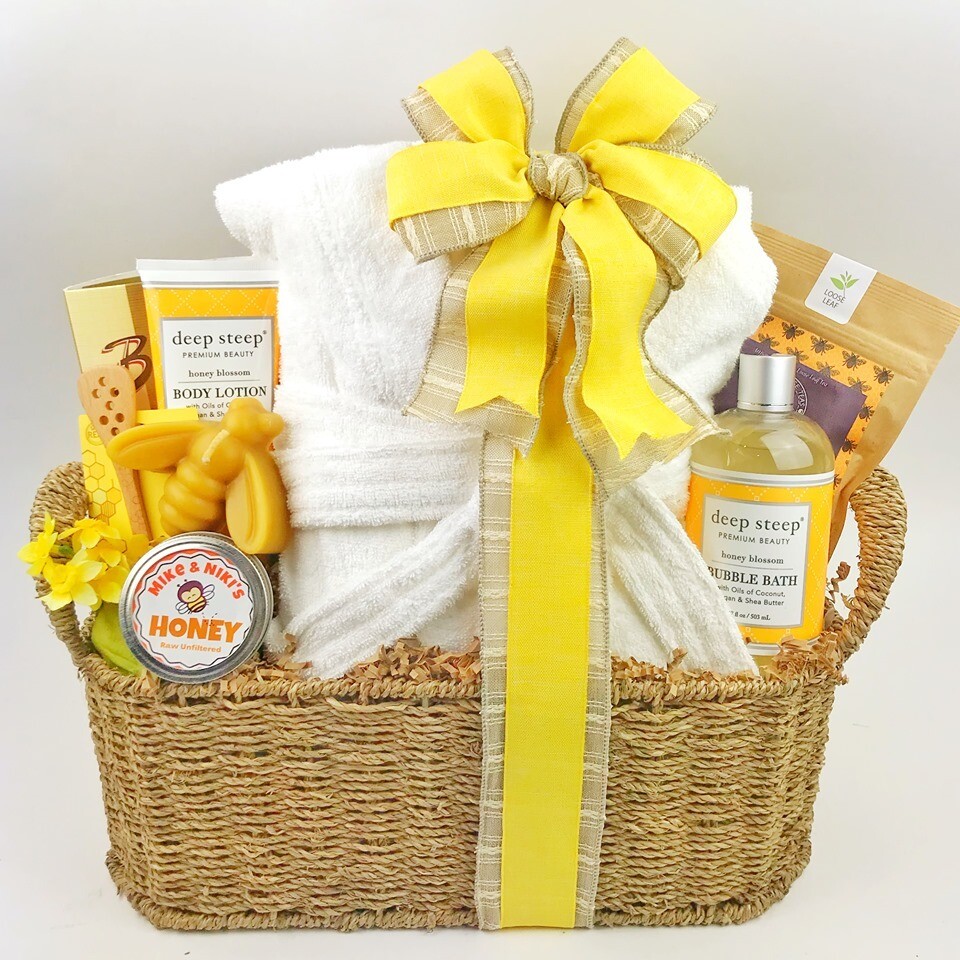 Your Mom deserves to be pampered and spoiled, right? All Moms do! We have this lush gift basket we call Bee Luxurious and will positively indulge your Mom. This beautiful seagrass basket is filled with a spa experience: honey blossom body lotion and bubble bath, terry robe, cookies, honey, luxury tea, a beeswax candle, and honey dipper. BUY Bee Luxurious Here
I think pretty much anyone would love this spa gift basket.  It could double as a birthday gift, a thank you gift, a corporate gift, an anniversary gift, or even an apology gift basket.
Do you need a more personal and customized gift basket for you Mom? Be sure to reach out to us via email or a phone call as soon as possible and we can start working on a special and unique gift for your Mom. Email us at Shawn@AllTheBuzzGifts.com or call me at 408-504-3703 and we would be happy to create something beautiful and personal for your Mom.
chocolate lover gift basket, clinic thank you gifts, essentail workers, frontline workers, gift basket for your Mom, gifts for frontline workers, gifts for nurse, moms day, moms day gift basket, mother's day, mother's day gift basket, no shopping gift basket, nurse gifts, pandemic gift basket, quarantine gift basket, sassy mom's gift basket, spa gift basket, superhero gift basket, thoughtful gifts for mom