Nurses Day Tote |Year of the Nurse | Nurses Day 2020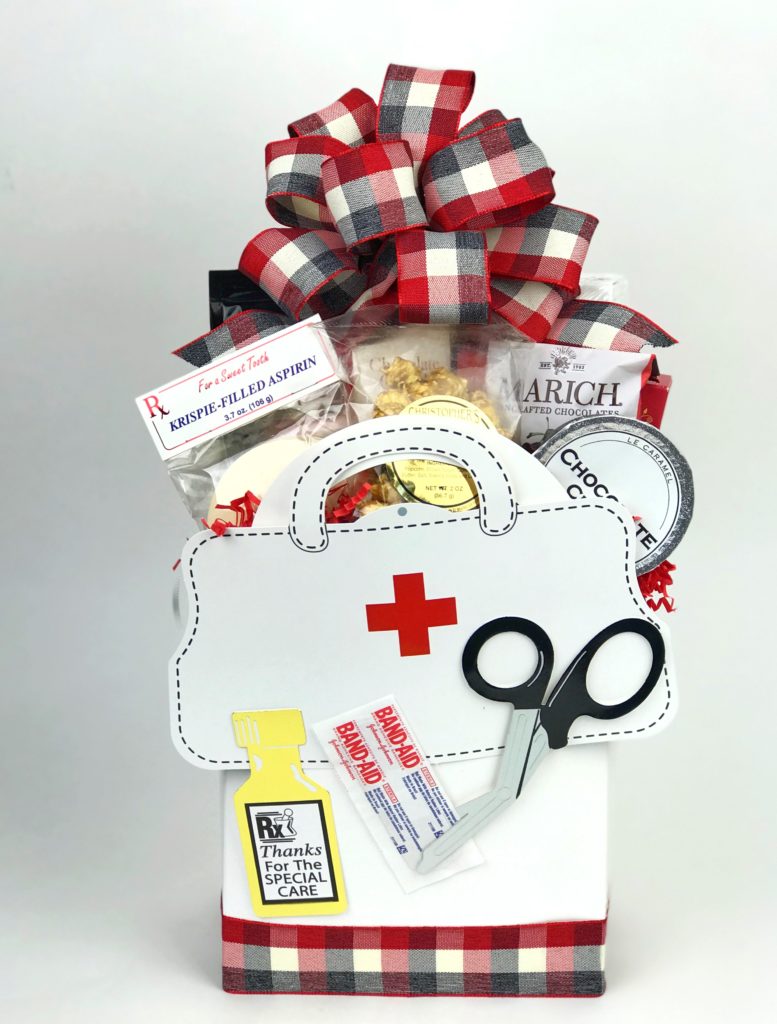 Nurses Day is May 6th in 2020! 
The awesome medical bag themed tote is perfect for your favorite nurse.
Filled with open & eat treats including dipping pretzels, chocolate caramel cream dip, caramel corn, chocolate cherries, cookies, and a giant crispy aspirin.
Totally customizable, add one of our keepsake gifts, or choose a healthy version. Personalized with names on the box or printed in ribbon also available. It can be made for an individual or group!
This nurse tote is only $65 and you can add custom ribbon with your favorite nurse's name or a logo for only $5 extra.
We have another article all about the Year of the Nurse and 10 unique gifts that we recommend for nurses day. You can read this Nurses Day blog here.
We also have the new "I am a Nurse, What's Your Super Power" tumbler for an extra special nurse.  You can buy this special tumbler for Nurses Day here. Only $25 and you can add candy to fill it up for an extra $5, too.
Do you know other essential staffers or frontline workers? We have a large variety of comfort gifts for your essential workers or your frontline friends.  These two blogs here and here describe lots of our comfort gifts and gratitudes for the nurses, doctors, researchers, delivery people, custodial staff, mail delivery people,  and more.  It would be our pleasure to help you show those people in your life your deep gratitude for all of their sacrifices during the Covid19 shelter in place.  If you would like a quote for some custom gifts or for a volume discount on gifts or gift baskets, call me at 408-504-3703 or email me at Shawn@AllTheBuzzGifts.com
We are in the Bay Area, but we do ship all over the U.S.
business gifts, custom gifts, custom gifts for nurses day, essentail workers, essential gifts for frontline, essential staff, essential workers, gift basket for essential staff, gift basket for nurses day, gift baskets for nurses day, may 6th, medical bag tote for nurses, nurse tote, nurses day, nurses day gifts, nurses day tote, week of the nurse, year of the nurse